Friday afternoon was the kind of weather that lets Rhode Island lay claim to some of the best sailing on the planet. It was warm but not hot. It was mostly sunny but ample clouds for shade. And and there was a good, stiff breeze blowing in from the north. And although the House Finance Committee had unveiled and passed its budget proposal less than 24 hours earlier, Governor Linc Chafee was not at the State House. He was heeling his sailboat, Swift, up Narragansett Bay into a 10-knot headwind.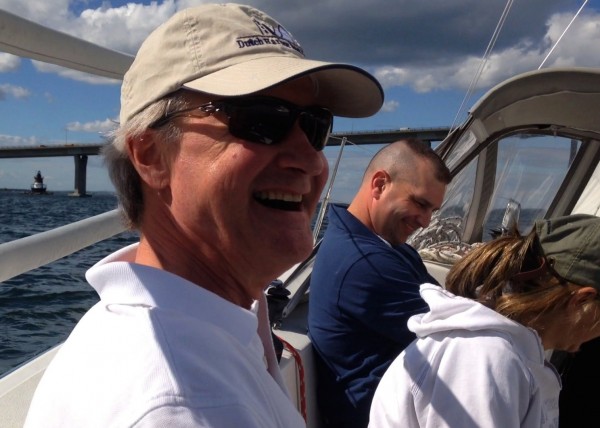 Chafee isn't running for reelection, and doesn't seem to regret the decision. In election years, "the boat stays 'on the hard' as they say," he told me as he took me for a cruise aboard his 33-foot J100. While we sailed he said repeatedly that he's staying focused on his final months as governor, but he mentioned maybe hiring a headhunter once he's out of office, and said he isn't opposed to doing something overseas. I told him he should help bring the America's Cup back to Newport. He's got not only the money and the name recognition, but few love the water as much as Linc Chafee.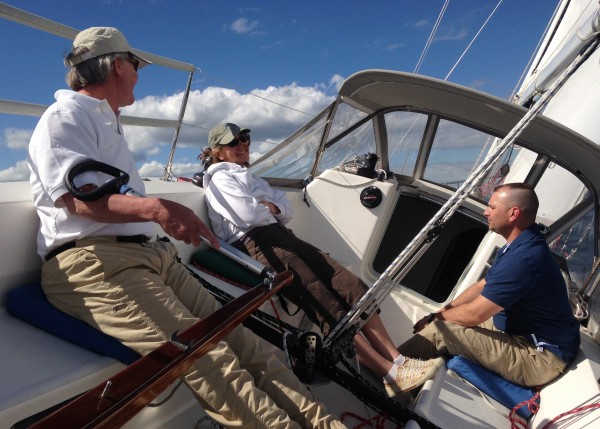 Chafee lives in the beach community of Potowomut and his home is right next to a CRMC public right-of-way and popular neighborhood beach on Greenwich Bay, where he can often be seen paddleboarding in the early mornings. He keeps his sailboat – a bigger version of one of the most popular racing sailboats ever built, the J24 – in Dutch Harbor, the mooring field on the west side of Jamestown that can be seen when looking south from the bridge. The cove is flanked by colonial era farms and pastures, a beach or two, several salt marshes and Dutch Island. I once asked Chafee to go surfing with me, but because we agree that Dutch Harbor is just about the most beautiful place in New England, we decided to go sailing instead.
We talked a lot about the highlights of being governor. Chafee boasted of making the state more tolerant and of leading Rhode Island out of a long recession. He said he feels vindicated that the House budget suggests lowering the corporate tax and implementing combined reporting, "bold" moves he suggested in 2012. Central Falls' recovery, he said, was his highlight as governor.
When I asked him to define his legacy in one word he said:
Several times we discussed his relationship with the media, he seems to have strong feelings about it. He made a point of saying there's been a lack of media support for social justice issues.
Chafee's 61 years old, and has been a city councilor, a mayor, a senator and now the governor. He wouldn't say he was done with politics, and seemed to like the idea of perhaps running for Warwick school committee some day. He told me he may make an endorsement in the governor's campaign, but didn't tell me for whom. Instead of pressing him, I asked what young Linc Chafee was like.
When we got back to his mooring in Dutch Harbor, I asked him if he might be interested in buying the Providence Journal.