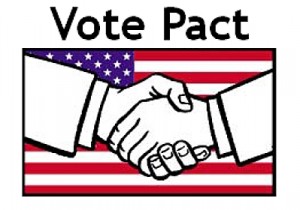 The unexpected successes of both Donald Trump and Bernie Sanders have demonstrated that the two-party duopoly is loathed by a large section of the American public regardless of ideological tendency. The corruption of the system is made manifest these days in the discussion of how the super delegate system of the Democratic and brokered convention plans of the Republican Parties will end both insurgent candidacies. Consider this analysis from Paul Street:
Just looked at the Michigan primary exit polls and the generational divide is just incredible. Among 18-29 year olds, Sanders beat Hillary 81% to 19%. Among 30 to 44 year olds, it was Sanders 53% over HRC 42%. Get to middle aged and Hillary wins. Among 45-64 year olds, Hillary triumphed 57% to 41% for Sanders. Among folks 65 and up, it was Hillary 69% v. Bernie 30%. Maybe the Dems should weight the primary vote towards those who are mostly likely to still be alive in 2040 and 2050. My sense is that it's the same generational story in other states. That's certainly how it seemed in Iowa. I attended two Caucuses in Iowa City. The more white-haired and affluent one (Precinct 1) split right down the middle. The much younger and less affluent one (17) was just a rout for Sanders, like 7 to 1. Wasn't even close.
But what do you do when your candidate is cut from the race and is not willing to run a third party ticket?
Enter Sam Husseini, the muck-raking journalist who has created the idea of Vote Pact!
This genius notion has been something he has been championing for several decades and is a way towards real electoral politics reform that does not require the pipe dream of joining one of the mainstream parties and shifting it away from corruption, the basic thesis of first Michael Harrington's Democratic Socialists of America and now the Progressive Democrats.
The way this works is that you find a friend who is your political opposite but still your friend and pledge to each other to vote for different third party candidates.
Husseini recently sat down with me for an interview that we hope to share with friends in the mainstream media by providing links to the file on Internet Archive by clicking here.
Take as example myself and Pat Ford over at The Coalition Radio Show. We are basically on the same page with every imaginable social issue (LGBTQQI rights, abortion, sex workers, drug decriminalization) but have a respectful disagreement on economic issues, Pat is a Libertarian and I am a Socialist/Communist of the unaffiliated variety. Even if we disagree on those issues, which have a great level of difference, we both loathe the Democrats and the Republicans in this state and the wider nation. So we both have said we want to form a Vote Pact. I am going to vote for my Green Party candidate and Pat will vote for his Libertarian Party candidate. This is not to say that either of our votes are going to push our third party candidates to victory this year. But the loss of votes for the duopoly is far more threatening in the long run than trying to reform the Democrats and Republicans from within, a strategy that has failed again and again for literally decades.
So begin to think about not the people you agree with but disagree with. Invert the effort to persuade them to vote for your third party candidate and instead persuade them to choose their third party candidate. Make a Vote Pact (or if possible, multiple ones). And consider these results that are possible.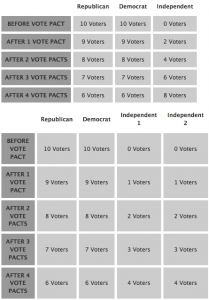 I am enthusiastic about this idea for two reasons.
First, I think Rhode Island is the perfect test case for such an experiment, the duopoly has come to its absolute maturation (or perhaps fermentation is the better word), creating a one-party state of absolute lunacy wherein the Democrats act like the GOP and the Republicans act like village idiots. This means that changing the status quo is dependent solely on third parties upsetting the apple cart, otherwise the entryist reformers that think they can shift their party from the inside are absolutely guaranteed failure.
But secondly, and more importantly, it would potentially be an augury for the rest of the nation. Rhode Island has always been a petri dish for neoliberal experimentation and policy testing. If it plays in Providence, it then gets a showing in Boston, New York, and Washington before being rolled out in the wider nation. So after years of being subjected to social engineering by neoliberal Democrats to show the rest of America just how awful you can be to the constituency and still get re-elected, why not use the inversion of that same logic to strike back at them where it really hurts?
Looking at the results of the primaries and caucuses this year, it is obvious this effort has a potential constituency on a massive scale that will not be easily undone. The Democrats are in a very public state of total shock because of the Sanders candidacy and wish they could figure out how to smother it. Meanwhile, the Republicans are in the exact same mess because of Trump. This is the best time to build Vote Pacts with people and strike back at the empire.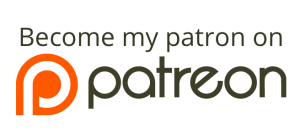 Sam Husseini explains why you should create a Vote Pact

,