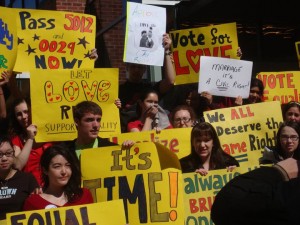 Same sex couples in Rhode Islanders will have another opportunity at equal protection under the law as Rep. Art Handy, D-Cranston, will again introduce a bill in the General Assembly that would afford the same marriage rights as their heterosexual counterparts enjoy.
"Every year we move forward," Handy said, who has introduced a similar bill in the previous nine legislative sessions. Sen. Rhoda Perry, D-Prov., will introduce the bill in the Senate.
Last year, Rhode Island passed a law that allowed gay couples to enter into civil unions. But civil unions, especially Rhode Island's version, is not tantamount to marriage.
"Separating straight and gay couples into different institutions just isn't legal," said Ray Sullivan, of Marriage Equality Rhode Island. "Until same sex couples can marry, Rhode Island has not achieved justice under the law."
Aside from the fact that "separate but equal" has already been deemed unconstitutional, Rhode Island's civil union law has a provision that allows religious institutions, such as Catholic hospitals, to be exempt from some of the law's provisions, meaning a Catholic hospital could deny a family member access to their spouse during an emergency situation or a religious school could deny health care benefits to an employee's same sex spouse.
There is another bill that will be introduced that would repeal this part of the state's civil union law, known as the Corvese amendment because Rep. Doc Corvese, D-Prov. and an ardent opponent of gay rights, managed to sneak the provision into the bill at the eleventh hour last session.
Because of the Corvese Amendment, Sullivan said. "Rhode Island has far and away the most discriminatory language of any marriage or civil union bill in the country."
Last session, the same sex marriage bill did not get a straight up or down vote, even with the speaker of the House, Gordon Fox, being openly gay. He told me after last session that not supporting gay marriage was one of the most difficult decisions of his political career.
Senate President Teresa Paiva Weed does not support equal marriage rights for same sex couples. She told me last year that she thinks Rhode Islanders are more comfortable with civil unions than gay marriage. A poll last year indicated that Rhode Island actually supports gay marriage 50 percent  to 41 percent.
Some legislators have said they worry about electoral repercussions from Catholics, but in Massachusetts "every legislator who supported marriage equality and ran for reelection was reelected," according to Sullivan.
The marriage equality proposal was first reported by Dan McGowan of GoLocalProv.