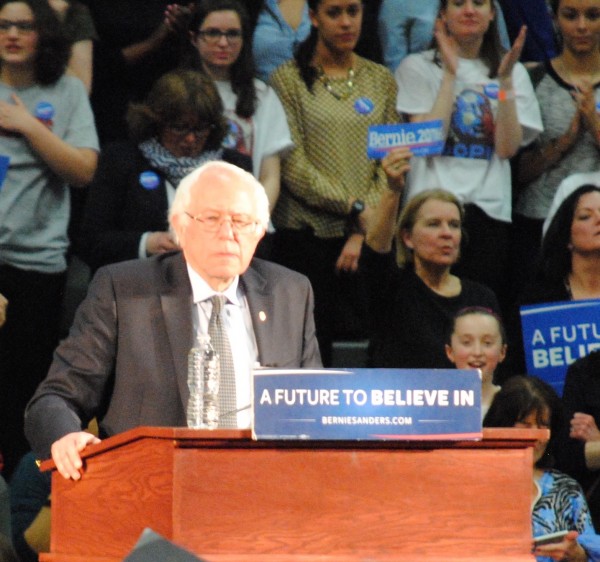 In every Presidential campaign season there is a cathartic moment.  This moment sometimes catapults a candidate to success and other times can destroy a candidate's hopes.  On March 25th Bernie Sanders had that cathartic moment, with a bird.
At a rally attended by over 10 thousand people in Portland, Oregon a little bird landing on Bernie's podium catapulted the campaign from grassroots effort to national obsession.  There have been at least 13 million views of the Bird video and 27 million hits if you Google Bernie and Bird. It was the trending topic on Twitter and Facebook seemed to literally explode in delight.
This one minute video of pure joy resonated with me to my deepest core. Not only did the bird land on the podium, it was fully engaged in the moment. Bernie's reaction was priceless. His authenticity was almost magical and his response, a message of no more wars and peace for all, was a message that will be heard throughout the world.
To add to the moment were those 10 thousand  attendees who were beyond ecstatic.  They knew they were part of history and they loved every moment. You could see it in their eyes, in their smiles and you could hear it in their deafening cheers.
This one moment defined Bernie Sanders perfectly. Bernie is a man devoted to the good of the people, a man who brings people together, a man who respects the environment and all the creatures that reside within it, including birds.
If Jon Stewart was still the host of The Daily Show it would have been his moment of Zen.
Truly it was an inspirational moment.
Make sure you vote for Bernie on April 26th.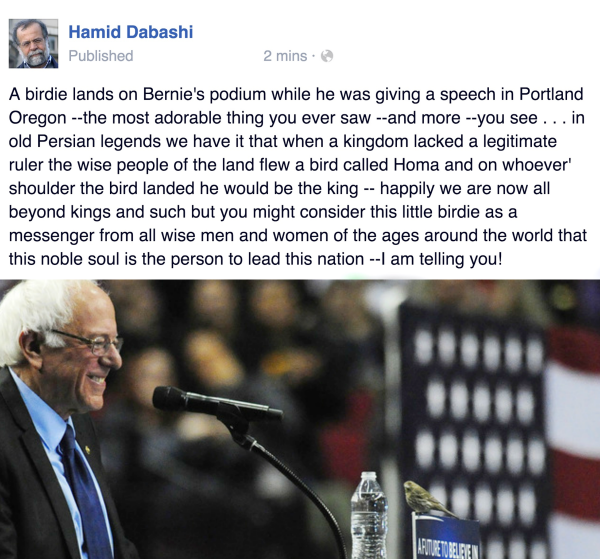 ---
To volunteer in this last month for the RI Bernie 2016 Campaign call 401-710-7600 – or email Lniedel@gmail.com
I also wanted to let you know that in RI we need to register to vote before March 27th, and you can still register today!

Registration info: http://www.elections.state.ri.us/voting/registration.phpOther questions? Click here: https://vote.berniesanders.com/RI/
Every single vote counts this election, so please register and pass this on to your friends too.
You can use http://www.berniefriendfinder.com
Sanders campaign: A defining moment

,