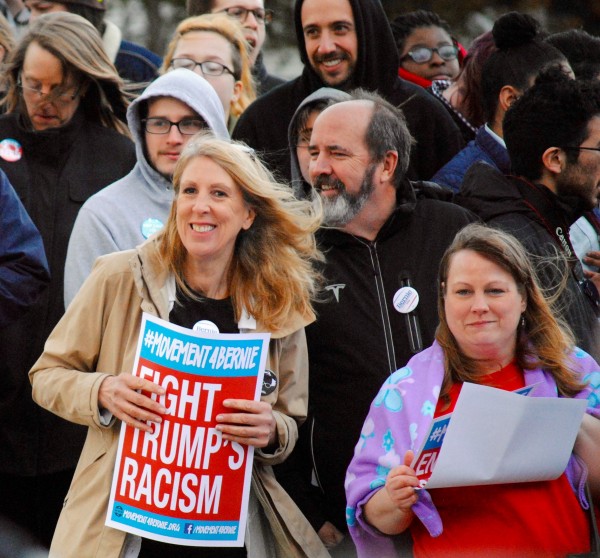 Waiting for Bernie Sanders in the press line outside Milton High School in Massachusetts ahead of Super Tuesday, I talked to Rita Colaco, a journalist from Portugal. She's surprised that I know where Portugal is, because most Americans she talks to think her country is part of Spain, or Puerto Rico. She was at a rally for Hillary Clinton in Boston earlier in the day, and now she's covering a rally for Sanders. She's in the United States for four days to cover Super Tuesday.
"So what do they think about this election in Portugal?" I ask.
"They think what you're thinking over here," says Colaco, "They see the popularity of Trump as funny." The way she says funny, she doesn't mean "Ha-Ha" funny. People from around the world are worried about what a Trump presidency means.
"I wouldn't be here from Portugal if it wasn't for Trump," says Colaco. She hasn't been able to find a rally for Trump in Massachusetts yet, though.
Inside the rally I meet an older couple who support Sanders, but they are realists, and will happily switch to Clinton if they have to. "We can't let Donald Trump or Ted Cruz win," says the woman, "That would be terrible, and I'm too old."
John May from Franklin holds home made signs in support of Medicare for All. He knows the sales pitch well. "You can't tell me that we can't afford to do, in America, what every civilized country on Earth already does," says May.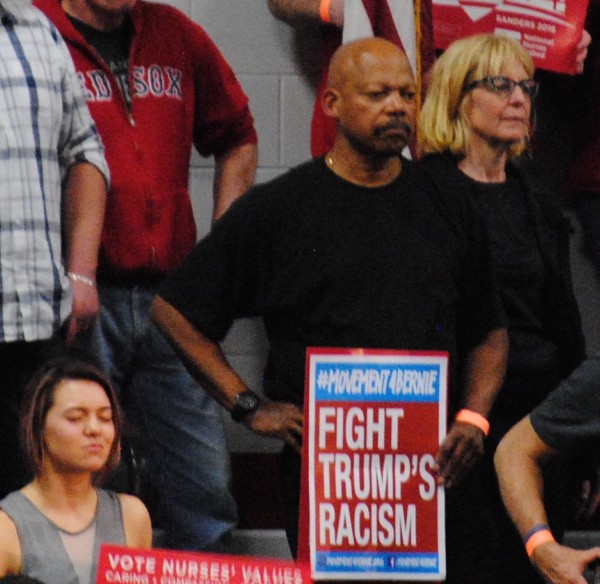 May lost two friends to pancreatic cancer years ago. They were diagnosed within weeks of each other and they died within weeks of each other. Their treatment was the same. The only difference between the two is that one friend lived in Denmark, the other in the United States.
The friend in Denmark, says May, spent his last six years of life with family and friends, unconcerned about the economic impact of his disease on himself and his loved ones.You can only begin to imagine the last years of the life of his American friend. That massive qualitative difference made May a supporter of single payer healthcare, and by extension, a supporter of Sanders.
My last conversation was with three girls, between 10 and 12 years old. They monkeyed around in front of my camera and were eager to be interviewed, but the adult with them asked that I not use the footage, since he wasn't sure about their parent's permission.
I asked the girls who they're voting for.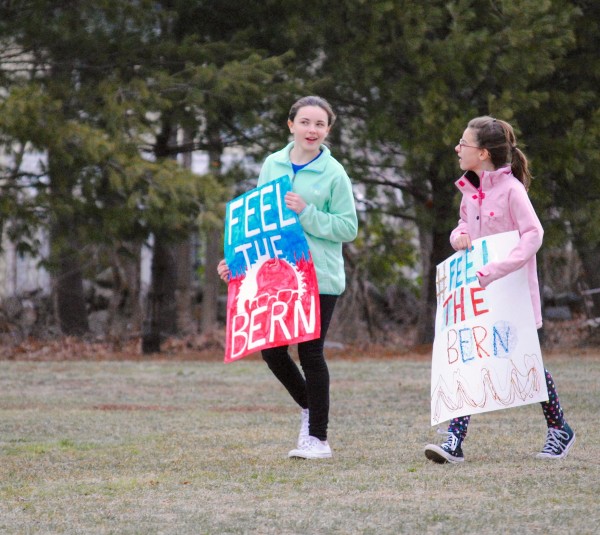 "We can't vote," said the oldest, "but my Dad's voting for Trump."
"Trump?" I asked.
The girl shrugged. "Whatever."
"I can't decide between Bernie Sanders and Marco Rubio," said the second girl.
"Really?" I asked, "how does that work? They're not much alike on the issues."
"I don't know," she said, honestly. "I just like them."
"I'm still deciding between Hillary Clinton and Bernie Sanders," said the youngest girl, "That's why I'm here, to listen to what Sanders has to say."
"You know," I replied, "that makes sense."
Then Sanders took the stage.