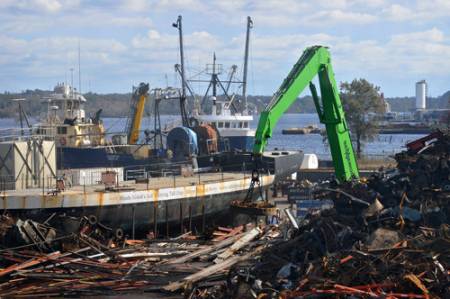 EcoRI reported while we were gone that Save The Bay has delivered a letter to the Department of Environmental Management (DEM) and the Coastal Resources Management Council (CRMC) about "persistent violations of the federal Clean Water Act by Rhode Island Recycled Metals."
"The scrap metals recycling industry is growing rapidly along the Providence waterfront — and with it a serious and ongoing threat to the Providence River," [Save The Bay director Jonathon] Stone wrote in the letter. A lack of enforcement and regulation "sets bad precedent and sends a message to other businesses on the water that's [sic] it's OK to illegally discharge in Rhode Island."
Some of you will remember the earlier promises of a green industrial future for Providence's hospital adjacent waterfront… wind turbines, short-sea shipping, frolicking puppies (OK, not the puppies). Those promises were used by lobbyists to torpedo zoning changes that would have allowed for non-industrial uses to be mixed in with the few existing businesses. With higher density uses no longer in consideration, what we've seen instead is the proliferation of waterfront junkyards, to date the only new businesses to relocate to that section of the waterfront and a far cry from the green-washed promises of the polluting special interests.
Of particular concern for residents is the continued lack of action from the city and state.
"In the 18 months since the first violation was reported nothing has been done to fix the problems, [Stone] said. "I think one of the interesting questions is why DEM and CRMC haven't enforced their own permits? I don't have an answer to that"…

Save The Bay is calling for construction of a drainage system, a concrete pad for heavy equipment, and a fully enclosed plastic cover to control dust and keep rain off the scrap piles. The environmental group also expressed concern about the lack of public information about a temporary dredging permit for dismantling the aforementioned submarine that has "mushroomed" into other uses. [my emphasis]
Recall that the Mayor Taveras championed his role in bringing in these industrial uses, calling one earlier this year "a very welcome addition to Providence's working waterfront" (note – working waterfront is the lobbyist preferred term for the polluting special interests). But with this news and with the exposed "Mt. Taveras" scrap pile at Sims Metal Management growing every day, one has to wonder why these environmental questions and the health of local residents weren't first and foremost among the city's concerns.