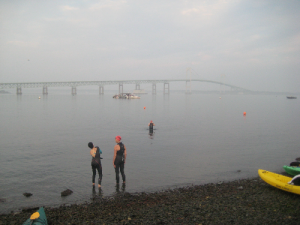 Next weekend marks the 36th Annual Save The Bay Swim where some 500 swimmers attempt the 1.7 mile swim from Newport to Jamestown in support of Save the Bay. This will be my 4th year participating (please consider making a donation). The swim this year is taking place on my birthday! I can't think of a better way to spend it.
Saturday, July 28th
Start – 8:15 AM, Naval Station Newport
Finish – Potters Cove, Jamestown
The event raises hundreds of thousands of dollars and supports an organization important to all Rhode Islanders.
Today, a Bay without Save The Bay could be defined by: a nuclear power plant at Rome Point; a failing municipal sewage treatment plant at Fields Point, dumping millions of gallons of raw sewage into the upper Bay; a 60-ton-per-day sewage sludge incinerator at Fields Point; shores unprotected from oil spills; a large-load container port at Quonset built, in part, by filling 144 acres of the Bay; no marine science in Providence's public elementary schools; lost salt marshes and historic herring runs; a reputation for being a place where development rules — even when wetlands, shorelines and public access are compromised; eelgrass extinction.
I've written on this blog about many of Save The Bay's important efforts, including the Roger Williams Park ponds restoration and oversight of the polluting special interests along the waterfront.
The photo to the right is of last year's start (I'm in there somewhere). Swimmers affectionately call these starts the "washing machine" where you contend with the flying hands, arms, legs, feet, and bodies of other swimmers. I just call that good fun! My goal again this year is to swim my age in minutes as part of the Jim Mullen Challenge. This challenge honors the memory of Jim Mullen, who participated in the swim for nine years. Jim set a goal each year to complete the swim in the number of minutes that equaled his age or less. Last year I finished in just over 51 minutes so I need to get a little faster, a little older, or both (and hope for flat calm).
For me the swim is both a personal challenge to motivate me in the long winter months in the pool and a way to demonstrate the importance of the Bay for the state and for the health of all Rhode Islanders.
WE SWIM because we treasure Narragansett Bay and its watershed as a natural resource.

WE SWIM because we believe environmentally sound management of the Bay is important to our way of life and the economy that supports it.

WE SWIM because it is one thing to say you are "for the environment" but quite another to get involved and dramatically demonstrate that clean water is a public health issue.

Since 1977, the Swim has been a tangible reminder that when Save The Bay speaks, it speaks on behalf of people who care about the Bay in extraordinary ways.
Again, please consider making a donation to support this worthy cause!
Why We Swim Across Narragansett Bay

,