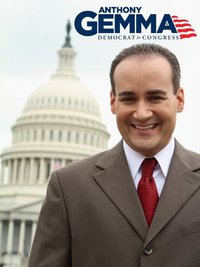 Dark clouds hung over Providence's Prospect Terrace Park as businessman Anthony Gemma, lately of Mediapeel, said, in a roughly 15 minute speech, that he would bring "change" and "new ideas," while redefining what service meant for the office of U.S. Congressman.
While the congressional hopeful spoke, supporters looked on, and a quartet picnicked despite the light sprinkling of rain. Cupcakes and cookies were laid out for the decently sized crowd.
Mr. Gemma attempted to put his candidacy in the paradigm of former Democratic Party presidents like Franklin Delano Roosevelt and John Fitzgerald Kennedy, whose New Deal and New Frontier programs, respectively, remain major touchstones of the Democratic Party.
Thus Mr. Gemma introduced that his candidacy would run under the theme of the "New Idea". However, he did not once say what that New Idea would be, leaving the door open to speculation.
Mr. Gemma also said that there was a very real chance that the Democrats could win back control of the House of Representatives this election, and that it might be as close as one seat. He said that he had the best chance of defeating Republican nominee Brendan Doherty in November, though polls show him in a poor position against Doherty, with a large portion of the electorate undecided.
In a speech that was big on sweeping abstractions like "vision," "courage," and "confidence," Mr. Gemma mentioned only that he had a jobs plan, not what was in it. No single concrete policy was announced, only that they would be rolled out over the course of the campaign. He claimed he shared the same anxiety and anger as many voters in the 1st Congressional District.
Anger was a major theme of the speech, as Mr. Gemma attacked Mr. Doherty for having "zero understanding" of how to create jobs. Claiming that Mr. Doherty was a creature of the public sector, Mr. Gemma said that he alone of the candidates for the office of U.S. Congressman understood how to create jobs. But as for his opponent in the primary season, incumbent Congressman David Cicilline, Mr. Gemma never once deigned to mention him by name, instead making a veiled reference to Mr. Cicilline's recent apologies by saying "I won't have to apologize to you for lying so that I can win your vote."
He never once made clear how he intended to take on Mr. Cicilline, who has the support of the Governor, the Treasurer, the current Mayor of Providence, the rest of Rhode Island's congressional delegation, and a massive advantage in funding. Perhaps though, the cross-section of politicians Mr. Gemma rallied to his conference offers some insight. Mr. Gemma thanked Providence councilmen Davian Sanchez, Wilbur Jennings, and Nick Narducci for attending, along with former mayors John Lombardi of Providence and said that Charles Lombardi of North Providence had not yet arrived.
Upon finishing his speech, Mr. Gemma made a beeline towards the park's exit, working only the part of the crowd that stood between him and the street, as the press tagged along. He then climbed into a waiting GMC sports utility vehicle and drove away, prompting one supporter to exclaim that the press had chased him away from his own press conference.