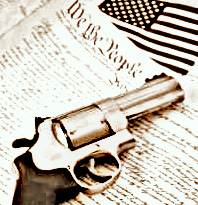 The members of the Senate Committee on Finance had already made up their minds to dismiss any potential value offered by the proposed legislation long before Senator Gayle Goldin, the bill's prime sponsor, explained it.
Senate Bill 2318 would impose a 10% supplemental excise tax on firearms and ammunition to be distributed to city, town, or municipal police chiefs (or the highest ranking municipal official) for the purpose of grant funding of nonprofit organizations whose mission includes a commitment to reducing crime and violence.
Committee Vice Chairman Walter Felag (D-Bristol, Tiverton, Warren) made it clear he had little respect for the bill and it's sponsor when he repeatedly said that every senator is entitled to a hearing of his or her bill, but that doesn't mean anyone at the table supports it. He also chastised Senator Goldin, in absentia, for leaving the hearing after explaining the bill, in spite of the fact that half of the members of his own committee were absent to work on budget issues.
Out in force was the usual shoot 'em if ya got 'em crowd, including 2nd Amendment Coalition lobbyist and unemployment insurance attorney Frank Saccoccio, NRA lobbyist Darin Goens, talk-show radio host Daria Bruno, Cranston Mayor Allan Fung and relentlessly obnoxious member of the tin-foil hat press, Dan Bidondi.
Saccoccio started his testimony by positing that the most important part of any legislation is the language that is not there. I'm no lawyer but I am fairly certain that the most important part of legislative language is, more often than not, the language that is there. However, Saccoccio chose to focus on a list of hypothetical scenarios having nothing to do with the actual bill or its potential merits.
"What if the police chief chose to give the money to an organization that spent 10% on a billboard and 90% on administrative costs and taxpayers' money was wasted? What if, in a state with such high unemployment, gun dealers were forced to go out of business because everyone purchased their guns in Massachusetts?"
Well, I suppose the displaced workers could go to work for the nonprofits who are spending so much money on their staff. But, unfortunately, logic did not have a seat at this table, in spite of the many vacant chairs.
NRA lobbyist, Goens, said that he's seen, "literally thousands," of gun control bills and that "this was in the top five of the worst he'd ever seen." I, myself, am a lobbyist. I understand the craft. Hyperbole is not usually the friend of the lobbyist. Furthermore, I am willing to bet that Goens has used this very phrase on literally hundreds of the literally thousands of gun bills against which the NRA stands. He then went on to give the not-so-subtle impression that, even though he represents the NRA and not the gun manufacturers (wink, nudge), if the bill passed, gun manufacturers might just stop selling guns and ammo to security or law enforcement in Rhode Island. I wonder if he submitted written testimony or a ransom note.
Fung testified that he was the only candidate to stand up for Rhode Islander's second amendment rights. He's Alan Fung and he approves this message. Lock, Stock and Daria Bruno went so far as to call the bill blatantly racist because it disenfranchises poor people of color who most need guns for self-defense. I know. I'm dry heaving too. And Bidondi … well, he just yelled from the gallery at anyone who testified in favor of the bill.
And we few … we happy few. We band of brothers (and sisters) who testified in favor of the bill were raked over the coals by the members of the committee. We were cross-examined as if we were proposing a bill to seize and sacrifice the first born child of every family. Or tax their guns.
Senator David Bates (R-Barrington, Bristol), showing blatant disrespect for his fellow Senator Goldin, asked her whether we should have a knife tax too? Senator Goldin kept her composure. I would have pointed out that nobody has, to my knowledge, assassinated a president from a grassy knoll by throwing knives. Also, one very rarely hears of a drive-by knifing.
Providence Mayoral Candidate Brett Smiley, (for whose campaign, in the spirit of full disclosure, I consult) was questioned by Senator Edward O'Neill (I-Lincoln, North Providence, North Smithfield) about  whether Rhode Island should start taxing alcohol too? (Nobody tell Representative Malik he said that!) O'Neill went on to ask why legal gun purchases should be taxed when it is stolen guns that result in gun crimes. Smiley answered that every gun begins as a legal sale. Gun manufacturers do not manufacture guns for illegal sale. By taxing at the point of sale, funds could be collected. The point that Senator O'Neill refused to acknowledge was that funding streams for violent crime prevention was very difficult to come by if one only taxed stolen guns.
The overwhelming arguments revolved (and revolved, and revolved) around a premise that this was a tax that punished law abiding citizens, simply executing their second amendment rights, rather than addressing the real issue, which is criminals who steal guns. However, my own testimony addressed the fact that this did not infringe upon anyone's right to keep and bear arms. It merely requires that those who make the choice to do so also invest in a responsible future. Taxes are not punitive. Taxes are a civic responsibility and an investment in community.
I was given a fair amount of eye rolling when I listed just a few incidents from the past three days, involving a 70-year old Ohio woman accidentally shot by her husband of 50 years; a three year old in Arizona who accidentally shot his 1 ½ year old brother fatally in the head; a 10-year-old in Texas, who accidentally shot his 4-year-old cousin in the leg. All of these tragedies made possible by legally purchased firearms. Perhaps a funding stream, at the discretion of law enforcement leadership, could be dedicated to educating the public on responsible gun ownership. Or, would that too be considered an infringement on one's right to keep and bear arms?
This bill has, for all intents and purposes, died in committee. But it is an excellent idea. Take the bill out of judiciary and make it a tax issue before finance. Do not control guns. Rather, fund nonviolence at the legal point of sale. Yet, the Dan Bidondi mentality seems to have permeated the General Assembly. The Senate, anyway, did not entertain the potential for trying something different to achieve a better result. Instead they simply cried "Why do you want to punish law abiding citizens? Why do you hate the second amendment?" I, for one, don't. I want to honor the preamble to the Constitution, which includes the phrase: "promote the general welfare."