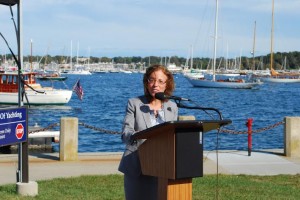 The environment has a friend in Senate President Teresa Paiva Weed, who again earned the endorsement of the local Sierra Club chapter this campaign season. The state's highest ranking senator who represents Newport and Jamestown has won the Sierra Club's support going back to at least 2006.
"I sought out the Sierra Club's endorsement because I have great respect for them as an organization," she told me. "Anyone who crosses the Newport Bridge as often as I do can't help but take in the beauty of Narragansett Bay and realize how important of an asset it is to our state."
Paiva Weed has a mixed record on progressive issues – she was a holdout on same sex marriage but has pushed hard to fight poverty. She's never been wavering on her commitment to environmental causes though, including habitat restoration efforts and growing green jobs. This past year she was an early and ardent supporter of the recently-enacted Resilient RI climate change bill that will help the state prepare for rising sea levels, super storms and other climate change impacts.
Rober Malin, political chair of the Sierra Club said she obviously knows her stuff.
"The endorsement committee was impressed that Teresa Paiva-Weed displayed a depth of knowledge about environmental issues when answering our questions and has been outspoken in her views on the importance of dealing with climate change," he said. "In the interview it was clear that she is someone who understands that prioritizing this problem is essential to Rhode Island's economic future."
Paiva Weed said she thinks coastal communities like the ones she represents have shown a stronger commitment to addressing climate change and a clean environment. "Often it's more of a priority for those of us from coastal communities than those from urban districts," she said.