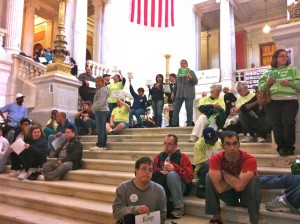 Senate President Teresa Paiva Weed said she is pushing for restoring funds to programs for the developmentally disabled in this year's budget.
"From an overall policy perspective we believe decisions in last year's budget resulted in a negative impact on the community," she said. "The senate has consistently made restoration of funding for the developmentally disabled a priority."
Last year, funding for the developmentally disabled were cut by $24 million. Only about $12 million was cut from the state budget; the other half comes in federal matching funds.
Paiva Weed said Senate Finance Committee Chair Daniel DaPonte and House Finance Committee Chair Helio Melo, both East Providence Democrats, are working together to see how much of the approximately $12 million in local cuts can be restored.
"At this point finance chairs have been negotiating," she said. "Hopefully they will resolve it all soon."
During the last week or so, the finance committee chairs, among others, have been busy putting together the budget proposal behind closed doors. When I caught Melo opening the door of his office (after his secretary told me he wasn't in there) he was tight-lipped about what might be in the much-anticipated proposal. "We are looking at it," he said. "We are looking at everything."
As a result of the cuts last year, programs were scaled back, even though they weren't supposed to be, and several hundred low-income wage earners had their hours cut.
House Finance Committee member Rep. Larry Valencia, a progressive Democrat from Richmond, said, "It's important to see what we can do about reversing the cuts from last year," he said, noting that pay cuts to low-wage employees has a significant effect on the state's economy.
Sen. Lou DiPalma, a Middletown Democrat who is the deputy chair of both the finance committee and the human services committee, is also pushing for funds to be reinstated.
"We need to see how to move needle from where it was last year," he said. "The cuts last year went much too far."
Advocates for what's known as DD funding were successful this session at drawing attention to the cuts. The biggest crowd at the State House this session was for a rally to raise awareness to the cuts – it drew close to a 1,000 people I would estimate. And several labor unions affected by the wage cuts either staged one-day strikes earlier in the session.