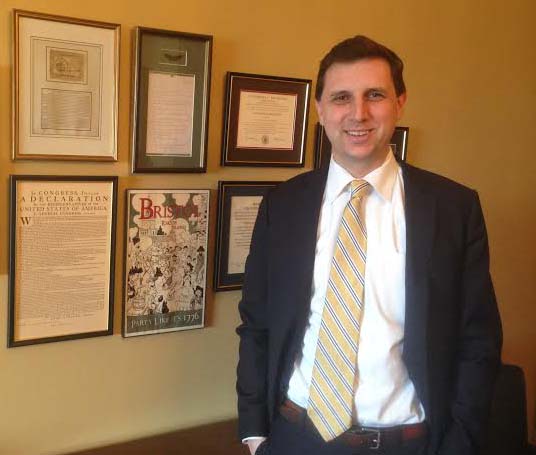 It's good for the environment, it puts people back to work and it lowers the cost of doing business in Rhode Island, says General Treasurer Seth Magaziner of the proposed Rhode Island Infrastructure Bank.
"You have energy savings, you have infrastructure jobs and you're doing right by the environment," he told RI Future in an extended interview on the idea. By financing and finding low interest loans to big and small public and private sector energy improvements, Magaziner says the Ocean State can accomplish all three.
Click the player below to listen to our entire conversation about a Rhode Island Green Infrastructure Bank:
The Clean Water Finance Agency, explained Magaziner, would expand what it already does and change its name to the Rhode Island Infrastructure Bank. Run by the very well-respected Bill Sequino, CWFA makes loans to cities and towns for sewer projects and other clean water infrastructure. Magaziner called said CWFA is "one of most well run and well-respected parts of state government" and last year it added roads and bridges to its portfolio.
By becoming the state infrastructure bank – what some other states call a 'green bank' – it would finance all kinds of "green infrastructure improvements," Magaziner said. "That can mean everything from stormwater infrastructure to energy retrofits for buildings."
The new green infrastructure bank would make giant loans – in some cases "a half a million dollars or higher," Magaziner said – for massive energy overhauls of public buildings. "Not just changing light bulbs and windows but really doing the heavy duty stuff," he said. "Maybe replacing the HVAC or the boilers or adding insulation to walls that don't have insulation, or maybe you're adding solar panels or geothermal."
"We think this can be very attractive to school districts, municipalities and other public building owners," Magaziner said. "It's a loan but it's a very cheap loan. The cost of the capital would be very low, one percent or two percent. The average deep energy retrofit on buildings can save you 20 to 30 percent on your utility bills. So that can be huge energy savings financed with a loan with a very low interest rate."
Privately-owned buildings could benefit, too. Especially if they are publicly subsidized. "We did a little research and found nursing homes spend about $10 million in state dollars on electricity every year so if you can reduce that by even 10 percent, that's real money," Magaziner said.
There's even a program for home owners to finance energy efficiency improvements. It's called a PACE loan, or a Property Assessed Clean Energy loan. The state green infrastructure bank would help a home-owner find the loan that would be tacked on to the municipal property tax bill.
"The benefit of that is if the building is ever sold the loan stays with the building," Magaziner said. "Because the bank has that security of knowing the loan stays with the building and is on the property tax bill that might make them more willing to offer longer term financing too. So instead of paying back the cost of solar panels in two years or three years it could be five years or ten years."
While 31 other states have either commercial or residential PACE loans, Rhode Island's "will be broadest PACE program in the country," said Magaziner. It will have both commercial and residential loans as well as cover a broader array of project. "Other states have done it for solar and energy retrofits, replacing HVACs and windows and boilers." Rhode Island's would also cover septic system upgrades and lead paint abatement, as well.
"It's a very simple concept and a very intuitive one," Magaziner said, "but we haven't done it yet in Rhode Island."