A 13 hour occupation of Providence College President Brian Shanley's office ended Tuesday evening as Shanley capitulated and signed the student's list of demands. According to a Facebook post by Marco McWilliams, "Students will now turn their attention to follow through efforts."
A statement from the students, who identify themselves as the "Board of Directors" arrived at 1am. It reads:
"We would not leave until the document said he would provide a substantive plan in regards to "each" of the Demands for Redress because there is not one single one that we were willing to go unaddressed. Altogether we were in there thirteen hours, eight of which he ignored us and then gradually agreed to negotiate. This came when he realized we really wouldn't leave his office until we had his signature and that four students were steadfast in their hunger strikes. We are proud of what we accomplished. We will see how honest he is in his commitment in 20 days and whether or not we believe his plans are substantive enough."
Video below is from @LadiiePhii96 on Twitter.
The photo below was tweeted out by Marco McWilliams.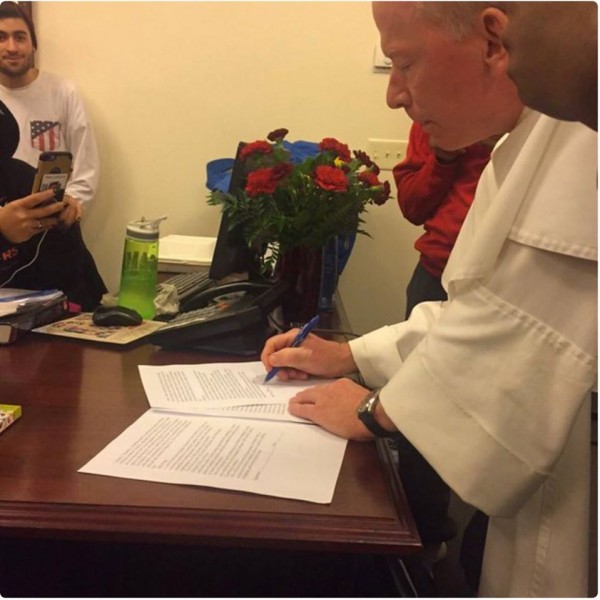 A copy of the statement Shanley signed has shown up on Twitter courtesy of @motermouth2 and can be seen below.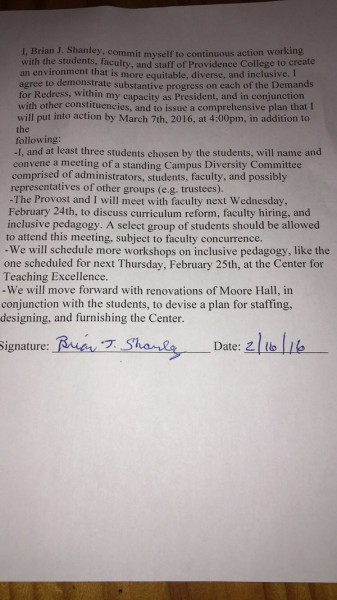 You can read the press release put out by the students here:
PC students occupy President Shanley's office to protest campus racism
PC President Shanley signs list of demands, ending occupation

,