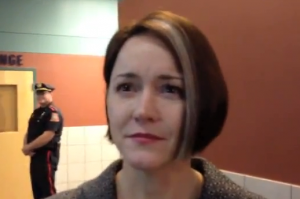 North Kingstown state Senator Jim Sheehan is again imploring Commissioner of Education Deborah Gist to release her doctorate dissertation on teacher evaluations in Rhode Island.
Gist says it is the product of U Penn, and it is embargoed until 2015. Sheehan, a North Kingstown High School teacher, says Gist could release her own research if she wanted.
In an email back-and-forth between the two public officials yesterday, Sheehan reminded Gist that she said her work would be available in June of this year.
"To be frank, lifting an embargo on your OWN dissertation and disclosing its content is entirely your prerogative," he wrote in an email to Gist, Board of Education Chairwoman Eva Mancuso, House Speaker Nick Mattiello, Senate President Teresa Paiva Weed and others. "You previously stated that your embargo would be lifted by 'June of 2014.' It is clear to me that you do not wish to honor this date and your word."
Gist disagreed. In a reply, she wrote:
Dear Senator Sheehan,

You are correct that I shared with you that the embargo was for two years. That was certainly my understanding. However, you are mistaken in your understanding of the process. I apologize for any confusion, but to be very clear I did not implement nor can I end the embargo. That action was taken by ProQuest, the organization that manages dissertations for the University of Pennsylvania. Contrary to what you stated, it is not "self imposed." That is why I have directed you to the university. When the embargo is over, the dissertation will be available from the library system, which is how all dissertations are publicly shared.

I remain available to meet with you about our progress in implementing educator evaluation upon your request.

Sincerely,

Deborah
They went back and forth before Sheehan ended the conversation with some sharp words:
Dear Commissioner,

At this point, I do not care to pursue this issue any more.  I am weary of the run-around and verbal obfuscations.  Unfortunately, this request is generally representative of your leadership in my experience.  I wish you well.  But, I look forward to new leadership with the incoming governor.

I thank you.

Sincerely,

Jim
Gist's U Penn doctorate dissertation is titled "An Ocean State Voyage: A Leadership Case Study of Creating an Evaluation System with, and for, Teachers." State lawmakers, including Governor Linc Chafee, this year rolled back some of the teacher evaluation policies implemented by Gist, who had sought an even more stringent evaluation procedure.
"Faced with strong teachers' union opposition, state Education Commissioner Deborah A. Gist in April backed away from annual evaluations for all teachers and instead adopted a so-called cyclical model of every two to three years," according to today's Providence Journal.
Gist declined to comment on the matter yesterday. "There's really not much more to say," said her spokesman Elliot Krieger. "Penn will follow its protocol regarding release of doctoral dissertations."
Here's more RI Future coverage about Gist's dissertation:
And here's the July 8 email exchange between Sheehan and Gist:
9:21 am – Sheehan to Gist:
Dear Commissioner,

I have made a simple request to read your dissertation. You previously stated that your embargo would be lifted by "June of 2014." Please see attached (Ed note: here) to refresh your recollection.

To be frank, lifting an embargo on your OWN dissertation and disclosing its content is entirely your prerogative. But, I find it somewhat frustrating that you gave one date for lifting your self-imposed embargo, and then decided to extend the moratorium in contradiction to your previously stated word.

I thank you for your time.

Sincerely,

Jim
1:02 pm – Gist to Sheehan:
Dear Senator Sheehan,

You are correct that I shared with you that the embargo was for two years. That was certainly my understanding. However, you are mistaken in your understanding of the process. I apologize for any confusion, but to be very clear I did not implement nor can I end the embargo. That action was taken by ProQuest, the organization that manages dissertations for the University of Pennsylvania. Contrary to what you stated, it is not "self imposed." That is why I have directed you to the university. When the embargo is over, the dissertation will be available from the library system, which is how all dissertations are publicly shared.

I remain available to meet with you about our progress in implementing educator evaluation upon your request.

Sincerely,

Deborah
2:13 pm – Sheehan to Gist:
Dear Commissioner Gist,

To be clear, YOU wrote to me that the embargo would be lifted in "June of 2014".

It is clear to me that you do not wish to honor this date and your word. But, as I said, that is your business as is the content of your PhD work product. Let's just leave it at that.

Sincerely,

Jim
3:50 pm – Gist to Sheehan:
Dear Senator,

I am uncomfortable with repeatedly emailing our colleagues who you have continued to copy on today's exchange, but it seems important for me to respond to your concerns and misunderstandings. Fortunately, I have been involved in internal meetings today and have been able to engage with you. I hope that will ultimately result in clearing up your questions.

This particular email is difficult to address. I have not disregarded any facts and have tried to help you understand the facts as they are. Clearly, I am not succeeding in that effort. I am sorry about that. Perhaps a conversation would be more productive. Sometimes email is not the best venue.

Deborah
4:12 pm – Sheehan to Gist:
Dear Commissioner,

At this point, I do not care to pursue this issue any more. I am weary of the run-around and verbal obfuscations. Unfortunately, this request is generally representative of your leadership in my experience. I wish you well. But, I look forward to new leadership with the incoming governor.

I thank you.

Sincerely,

Jim