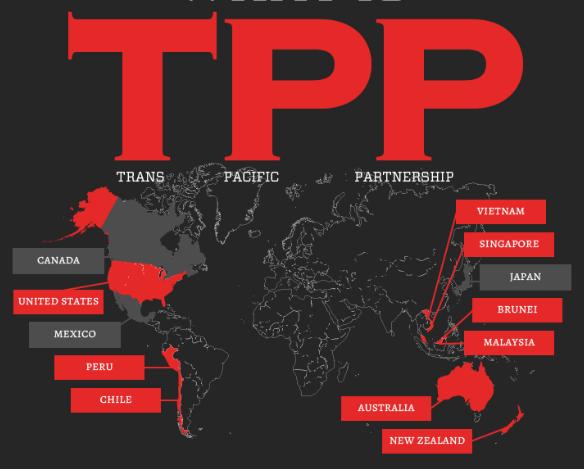 Have you heard about the Trans Pacific Partnership yet?
If not, that's exactly what the corporate interests – like big pharma and Wall Street – who wrote this trade deal were hoping. The TPP would be the largest such multinational pact ever and it's been crafted entirely in secret. "It's a trojan horse in the global race to the bottom," said Robert Reich, "giving big corporations and Wall Street banks a way to eliminate laws that get in the way of their profits."
Thankfully, the progressives in the US Senate are finally starting to vocally oppose it – even though it puts them at odds with President Obama, who supports it. Elizabeth Warren had this op/ed in the Washington Post this week, and 8 senators spoke on the floor yesterday to oppose such "free trade" deals.
"I start with a state that has been on the losing end of these trade deals," said Rhode Island's Senator Sheldon Whitehouse. "Rhode Island, not a big state, has lost more than 50,000 good paying manufacturing jobs since 1990."
Whitehouse was joined by sens Warren and Ed Markey of Massachusetts, Bernie Sanders of Vermont, Sherrod Brown of Ohio, Bob Casey of Pennsylvania, Tammy Baldwin of Wisconsin and Jeff Merkley of Oregon.
"I don't like the process very much either," said Whitehouse on the senate floor yesterday. "It is secret, we are kept out of it and who's is in it is some really big corporations and they are up to I think no good in a lot of these deals."
So does Pascoag resident Chris Currie, a member of the RI Progressive Democrats who has been sounding the alarm about the TPP locally since before many in the beltway even knew it existed.
"As we have seen in the recent mid-term elections, multinational corporations have been collectively spending billions … to rig and/or otherwise determine the outcomes [of] elections, and they have succeeded in that regard in many ways," he said in a recent email. "But they are well on the way toward achieving such objectives in the future without having to spend anywhere near that much money by financing the implementation of the so-called Trans Pacific Partnership ("treaty" and the Transatlantic Trade and Investment Partnership (TTIP) "treaty" which have the full support of President Obama, Mitch McConnell, John Boehner, and most our Republicans in Congress.   Once either of those two "treaties" are implemented, multinational corporations won't have to worry about bribing our politicians anymore, because if our federal, state, or municipal government enact ANY KIND of legislation that impedes the "expected profitability" of multinational corporations."
Currie has been sending warning emails about the TPP for years. Here's an excerpt from one sent in August of 2013: "Promoting (and attempting to "fast track") the Trans Pacific Partnership (TPP) and Trans Atlantic Free Trade Area (TAFTA) Transatlantic Trade and Investment Partnership (TTIP) treaties which will surrender our nation's sovereignty to a cartel (world government?) of greedy multi-national corporations (that have no god but money) by empowering them to effectively nullify US federal, state, and local laws which "interfere with the profitability" of their corporations. It would be like surrendering our national sovereignty to greedy bastard (and deadly) corporations like Monsanto!"
Sheldon, progressive senators oppose free trade deals like TPP

,