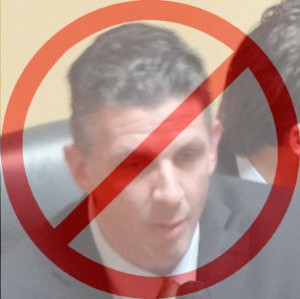 Jon Brien recently announced that he would be running a write-in campaign to retain his seat in Rhode Island's House of Representatives.
At a press conference to announce the egotistical continuation of his campaign on September 20, Brien was surrounded by owners of local business including Pepin Lumber, The Burrito Company, and American Beauty Signworks. This is pretty ironic, given his involvement in the ultra-conservative American Legislative Exchange Council (ALEC).
ALEC is an organization that promulgates legislation written by, and to the benefit of, giant corporations, like Wal-Mart, Home Depot, and hundreds of others, the vast majority of which make no bones about the fact that the expansion of their operations inherently drives small, local businesses out-of-business.
Why these business owners would choose to support a candidate that is involved in an organization that is actively trying to decrease their market share is beyond comprehension.
Brien is much more than just a member of ALEC, he serves on its board of directors. He and Republican state Senator Francis Maher, Jr. serve as ALEC's co-chairs in Rhode Island.
The majority of business owners and citizens in Woonsocket — whether they support Brien or the winner of the primary, Stephen Casey — would agree that our taxes are too high, but that statement invariably has an unspoken addendum, which is, "Our taxes are too high in relation to the services provided in return."
Brien can rail against the tax rate all he wants, but where and when has he ever demanded a proportionate increase in city and state services in return for those high rates? He hasn't, and that's because he is a small-government neo-conservative masquerading as a Democrat.
I would urge all small business owners in Rhode Island to be wary of supporting candidates that are in any way associated with ALEC. The last thing this state needs is an influx of big-box stores and corporations — or legislation that favors them over the small businesses that contribute to the character, richness, and the local economy of our great state. They may set up shop here, but the jobs they create are usually low-paying, providing few or no benefits to their employees, and their corporate profits often wind up out-of-state, and in many cases, overseas.
RI Small Businesses: Beware of ALEC's Minions

,