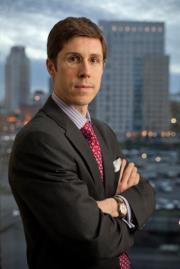 Providence voters will probably have a progressive to elect mayor in 2014 even if Angel Taveras runs for higher office as Brett Smiley says he's put together a high-powered committee to "seriously explore" running for mayor if Taveras doesn't.
"I love Providence and know first-hand the positive impact a passionate and committed mayor can have on the city and its residents," Smiley said in a statement released today. "I believe I bring the business background, broad community involvement, ideas and energy needed to get this big job done."
Helping Smiley assess the situation will be Myrth York, perhaps the most important progressive in the Ocean State in terms of competing in a hotly contested election, and Lauren Nocera, who managed Taveras' successful run for mayor. They are joined by Christine West, chair of the Providence City Plan Commission.
"York is an East Side resident and West a West Side one," points out the press release.
"I have worked closely with Brett Smiley and I know he has the management skills, temperament, and work ethic that will serve him and the residents of Providence well as Mayor," York said.
"Brett Smiley has the strong commitment to fostering entrepreneurship and innovative development that is key to revitalizing Providence's economy and improving our quality of life," said West.
Smiley is a professional political consultant who also chairs the Providence Water Authority. He's worked on important progressive issues such as marriage equality and payday loan reform.
Smiley to 'seriously explore' running for mayor

,