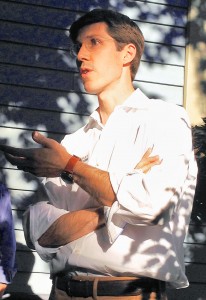 Former Providence mayor, Vincent A. Cianci, is a bully. He is not "just what Rhode Island's capital city needs." He is not the man who "never stopped caring about Providence." He is an indomitable ego with a history and a talent for prioritizing power over people and results over integrity.
"I challenge Mr. Cianci to a debate," said Democratic mayoral candidate, Brett Smiley, "at the time and place of his choosing — on questions of ethics, government accountability, and the cost of corruption to our city's reputation and economy. We are still recovering from the damage inflicted by the widespread and systematic corruption that defined Buddy Cianci's tenure as mayor." A debate is not an unreasonable request among political candidates in a land that calls itself a democracy. It is a civilized discussion between individuals who seek the same office, but hold different opinions on how to perform the job. By leveling the playing field and offering a public forum in which to support their respective claims, a civil discourse can be staged to allow the people to determine which man or woman best suits the values and abilities of the future that the majority of the people want. Smiley even offered to give Cianci home-field advantage by allowing Cianci to choose both the time and place.
But bullies of the Cianci variety are rattled by having to relinquish even the slightest control. Their egos overpower their capacity to reason when they, themselves, do not call the plays.  Possibly best represented by RIPR's political reporter Ian Donnis, in a now classic Cianci story, Donnis, at the time reporting for the Phoenix, had scheduled an interview with then mayor Cianci on two topics: the mall and police. Cianci flew into an unwarranted rage, pounding the desk and crying that his staff had approved only one question and, "I'm the one who sets the rules here, not you!" He then proceeded to discuss the second question to Donnis's satisfaction. This typifies the Cianci-style bully. The first time I heard Donnis tell this story, he went on to discuss an unprompted anecdote about Cianci's show of force against the unionized sanitation workers by hiring private workers to break the ranks and placing shotgun-wielding police on the trucks to protect the scabs. "What the unions didn't know was that the guns weren't loaded."
I know something about bullies. Growing up, I was always the small-framed, intellectual child. I was picked on. I was sensitive. I was artistic. I was the stereotypical victim for the stereotypical bully. Maybe it was just to make those like us feel better about ourselves or maybe, at the time, people actually believed the explanation that bullies were really more insecure than any of us and acted out as a means of overcompensating for their own, perceived insufficiencies. Now, however, studies have shown this not to be the case. According to Jaana Juven, a professor of developmental psychology at UCLA and an expert on bullying, "Most bullies have almost ridiculously high levels of self-esteem." Furthermore, they are often viewed by their peers, not as pariahs, but rather as popular, effective and untouchable.
But what I learned growing up was that the best way to shake up a bully is to steal his or her feeling of control. Don't back down. Call the person out. Steal his or her spotlight by turning the tables of his or her audience.
And that is exactly what Brett Smiley did. Brett called him out to the metaphoric schoolyard on the very issue that is the foremost concern of anyone who considers Cianci a viable candidate: ethics, government accountability, and corruption. And, predictably, Cianci responded by taking a cheap shot at Smiley's late father in law by making a disparaging joke with regard to Brett's husband's father being part owner of a locally well known exotic dance nightclub. Brett's husband, James DeRentis, for the record, is one of the most generous, kind, talented and intelligent people I know. For Cianci to make a mean joke about the late father of the spouse of a political opponent as a response to a request for political debate shows that there are still few moral levels to which Cianci will not sink. Brett asked for a civilized discussion and Cianci made the circumstantial equivalent to a "your momma'" joke.
Ethics, government accountability, and corruption. According to the Brown Daily Herald, "Patronage, bribes and city employees being required to buy tickets to Cianci fundraisers were all investigated, leading to the indictment of 24 city officials and the jailing of 19, including several top Cianci aides." But Cianci has the gall to try and insinuate that Brett's late father in law's partnership in an exotic dance nightclub somehow equates to multiple felony convictions for criminal acts while in the office Cianci held when convicted.
Cianci won't stoop to debating a Democratic primary candidate. This is the same cowardly style he uses on his radio show guests: charm them until they leave the studio and then take cheap shots when they can't swing back. I deviated from his audience-demographic of "get off my lawn! Kid's these days … when I was young!" crowd to tune in to his talk radio program a few times. I know how he operates. There is a part of me that's relieved that he won't have to be torn apart in a public forum by someone who can actually separate the facts from the fiction and the myth from the man who still rubs the sore spots where the handcuffs rubbed his wrists.
I will fully disclose that I help with Brett Smiley's campaign. I work with Brett because he is, without a doubt, one of the most honest, authentic and genuine people I have ever met. Brett wants to win. But he would rather lose with integrity that win dishonorably. Brett lives his truth. My job is to promote him as a candidate. But I would lay down in traffic for him as a person. He inspires me. I work with a number of elected officials and candidates for office. But none have taught me as much about uncompromising ethics within politics as Brett Smiley. Yes, he's "the man with a plan." But, as much as I am invested in what he plans to do, I am even more inspired by why he plans to do it. He loves this city. He wants to make everyone love it as much as he does and he just happens to be skilled and driven enough to do it … honestly. For the record, neither he, nor his campaign, solicited me in any way to write this. In fact, I may incur some repercussions for "going rogue." But, had Cianci not taken such a cheap shot at a man in whom I believe, and his family. I would not have penned a word.
So, the line has been toed. Cianci has been weighed. Cianci has been measured. And, maybe, he's just plain scared of stepping into the ring with someone so far above his moral weight-class. If I were Cianci, I would be too.