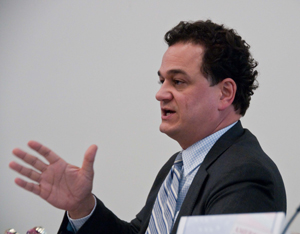 Despite nearly half of the House signing onto a bill that would raise taxes on the richest Rhode Islanders, Speaker Gordon Fox said he intends to keep his promise not to touch the income tax structure in this budget cycle.
"At this point I'm closing the door on doing anything with income tax until we have a little more historical evidence about what's going with the reforms we did a few years ago," he said.
In 2010, the General Assembly passed a budget proposal put forward by then Governor Don Carcieri to lower the tax rate on those who make more than $100,000 from 9.9 to 5.9. Fox said this will be the first budget year that the General Assembly can see how those tax cuts affect the state's budget (people are now filing taxes for 2011, the first year the restructured rate was in place). He also said a number of tax exemptions were eliminated when the overall rate was reduced.
"When given all the information I think that a significant number members will support my position on this," Fox said.
But some legislators, speaking on background, said the bill that would roll back the Carcieri tax cuts for those who make more than $250,000 a year, still has life – though it could look much different if it does pass.
Even Fox, who has described himself as a fiscally conservative Democrat, would not rule out taking another look at the tax code in future budget cycles.
"As we get the empirical data going forward what we'll do," he said, "I never want to make any predictions about what we would do in the future, but we'll see."