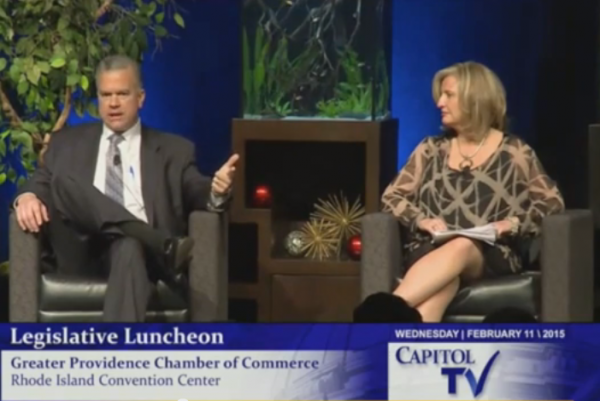 Speaking at a Greater Providence Chamber of Commerce luncheon, Speaker of the House Nicholas Mattiello held court and spoke plainly about his economic priorities for Rhode Island.
Clearly upset that Politifact ruled false his recent statement in which he denied that there have been tax cuts for the rich in Rhode Island, Mattiello pointed out that when he speaks to his "well-to-do" neighbors, they "don't see any tax relief." Then in a gesture more suited to Imperial Rome than to Democratic Rhode Island, Mattiello declared, "That discussion has to stop."
Of course, the discussion isn't stopping.
Mattiello made no secret about his economic priorities: rich people. The real question is why any business interest in Rhode Island bothers to pay lobbyists any more, given that Mattiello has basically said that businesses will get everything they want, from lower taxes to fewer regulations. Says the speaker, "We have to concentrate on the things that are important… Let the business community know that they're important to us, know that we are going to do the types of things they need to have done."
No longer will people be the priority in Rhode Island. "We changed the tone," said Mattiello, "The business community knows that they have priority, they know that they're important…"
It follows then that people not in the business community do not have priority and are unimportant.
On HealthsourceRI, one of the most successful state run health exchanges in the country, Mattiello remains unconvinced, saying, "I'm informed that it's not as good as we think it is… There are a lot of problems with the exchange… It should be no more expensive than it would cost us to have the federal government to do it…"
I can't be the only one who detects a massive dose of hubris when Mattiello says, "I have not made my mind up as to whether or not we're going to keep it in the state, give it to the federal government and so forth…"
Just in case you need a preview of what to expect as the years roll by under Mattiello's House leadership, you can rest assured it's going to be more of the same.  "I would support [reducing or eliminating the $500 minimum corporation income tax] and I would support reducing and eliminating other taxes also. There's a lot of taxes we could reduce or eliminate… I'm not sure that's it going to be my priority this year, but it's certainly something that I'm mindful of and it's something that we ultimately have to address."
One has to wonder when the General Assembly will get its House in order, and find new leadership.
Speaker Mattiello calls for an end to criticism of Speaker Mattiello

,