Several days ago, the New York Times ran a story titled Plan to Expand Pipeline at Indian Point Raises Concern. It highlights the growing worry that the proposed Spectra natural gas transport route might one day pose a threat to a nuclear power plant beside the Hudson River.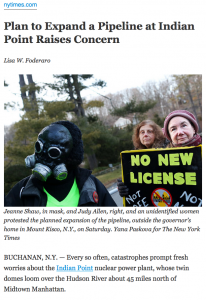 This story of course brings into discussion an important side-note worthy of dissection. My editor at CounterPunch, Jeff St. Clair, has been adamant in his work as an environmental activist that the nuclear energy industry might at some point try to parlay the approaching depletion of fossil fuels and the global warming trends into an excuse for using nuclear fission as a "bridge fuel" away from carbon-producing ones.
Besides the obvious problems of meltdowns and accidents akin to the disaster at Fukushima, there is also the fact that nuclear waste produced by such plants is poisonous and dangerous. Uranium and other materials that cease to be powerful enough to generate electricity still are potent enough to pose a risk to humans. The disposal of the stuff is quite problematic.
Right now, the University of Rhode Island is host to a small reactor dating back to 1960. While providing some research material for students, it also costs a good deal of money for the state. In 2011, an intern was "accidentally" exposed to radiation in the facility. It is located quite close to the water and, should something ever occur, it would prove to be quite dangerous for the entire Narragansett Bay. The air within a twelve mile radius would be filled with radioactive iodine were there to be a core breach.
The proliferation of the fracking industry poses a viable threat for future tectonic activity that could severely damage the reactor. Climate change will create more powerful storms that could also cause problems. With all these factors in mind, it is important to be on guard for the sneakiness of the nuclear industrial complex.