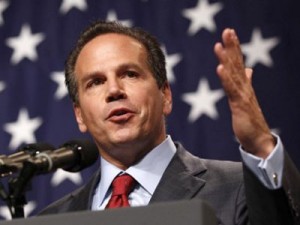 I want to extend my congratulations to Brian and the entire progressive community of Rhode Island on getting this site back up and running.  There's never been a more important time for all of us to stand together in support of the progressive values that we know are key to putting our country back on the right track.
When I arrived in Washington with eight other freshmen Democrats last year, I knew we would have to work hard to fight against the House Republican leadership and the Tea Party rank and file.  As a new member of the Congressional Progressive Caucus, I was proud to cast one of my first votes against the Republican budget that would have critically weakened Medicare.
And over the past year, the Republicans have not stopped pushing their radical conservative agenda.  They have taken up numerous measures that would weaken clean air and water protections, and threaten our environment – including a bill that would force the Department of the Interior to open up offshore areas for oil drilling along the Northeast coast, including Rhode Island.
Just a few weeks ago, at the close of a year in which they nearly forced a government shutdown, as well as a default on our national debt, the House Republican leadership brought us to the brink once again by threatening that they would not pass a temporary extension of the middle class tax cut and unemployment benefits – even after the same proposal passed with 89 votes from both parties in the Senate.  For more than a year, Republicans in Congress have been bringing their most radical ideas up for votes on the House floor, without once considering serious proposals to get our economy moving again.
Progressives know we can do better. We know that fiscal responsibility doesn't have to come at the expense of the New Deal and Great Society programs that made our country strong, like Social Security and Medicare, so we can keep tax cuts for millionaires and billionaires. We know that putting people back to work and protecting the air we breathe are not mutually exclusive values, and that we should never put middle class families in jeopardy just for the sake of a political victory.
And as difficult as the last few years have been for our country, and especially our state, we know that standing up for these values has never been more important as we work to get things moving again.
Congratulations again on relaunching the blog – I'm looking forward to hearing your thoughts in the months ahead and working with you to address the issues facing our state and our country.
Standing Together for Progressive Values

,