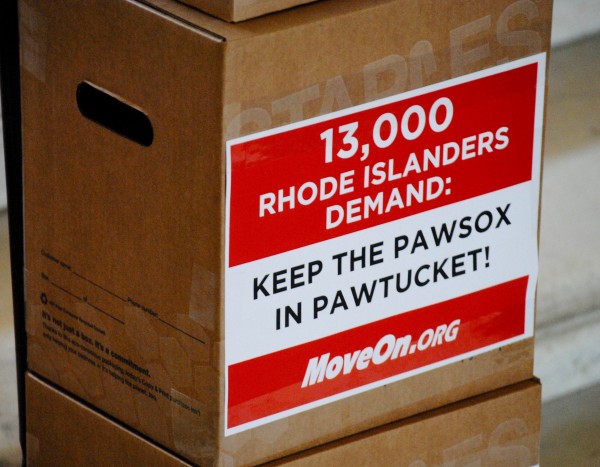 David Norton, representing Organizing For Pawtucket, delivered petitions to Governor Gina Raimondo, Speaker Nicholas Mattiello and Senate President Teresa Paive-Weed on Tuesday afternoon. Over 13,000 Rhode Island residents signed the petition demanding that the PawSox stay in Pawtucket and that no tax dollars be spent on the construction of a new stadium in downtown Providence.
According to the press release:
Today we are delivering 13,000 petition signatures to Rhode Island leadership.  As the most powerful legislator in Rhode Island, Speaker Nicholas Mattiello has the power to say NO to PawSox principal owner Larry Lucchino.  We are calling on him specifically to take action on this issue.
13,000 Rhode Islanders and people at every point across the political spectrum in Rhode Island – from the Tea Party to the Progressive Democrats – are in agreement:  Speaker Mattiello, MAN UP and tell PawSox principal owner Larry Lucchino NO!
A small group, followed by news cameras, first went to the Governor's office, where a staffer politely accepted a box containing copies of all the signatures. The group then went to the third floor and to the Speaker's office, where the reception was a good deal more chilly. At one point the Speaker's staffer got up and left the room, only to return a moment later to tell Norton to place the petition on the floor next to her desk.
The surprise came at the Senate President's office, when Paiva-Weed opened the door to her office herself. Perhaps the Senate President was equally surprised to see a group of news cameras and activists at the door when she opened it, but if so, she didn't show it, much.
Paiva-Weed graciously accepted the petition and promised to keep the interests of Pawtucket in mind during negotiations.
You would think it would be all but impossible to ignore 13,000 signatures.
You can watch the petition signature delivery below: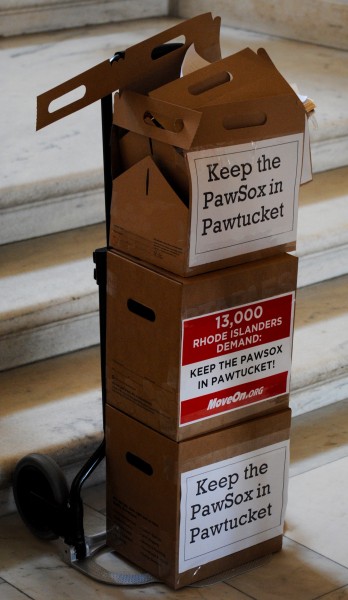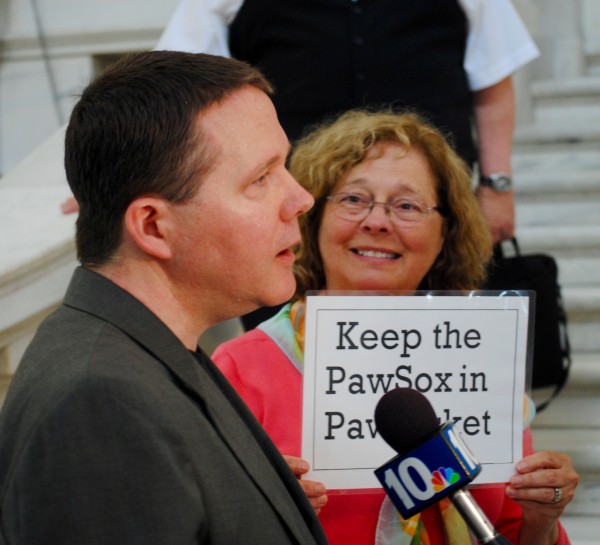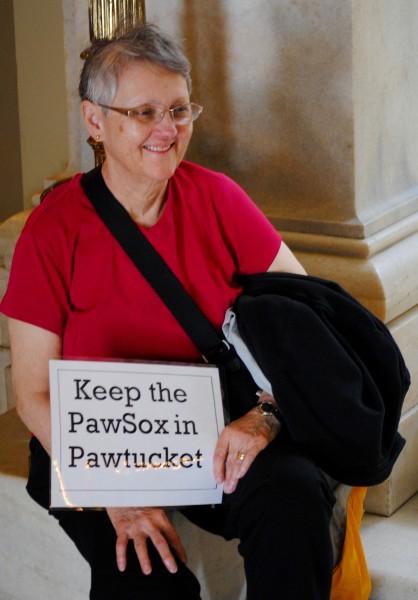 State House leaders presented 13,000 signatures opposed to PawSox move

,