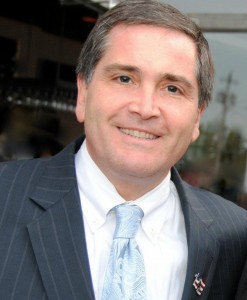 State Senator Frank Lombardi (D-Cranston), is expected to be a strong "no" vote on S0038, the Marriage Equality bill to be heard during tonight's Senate Judiciary committee hearing. In the past he has related his vote to his strong Catholicism, but last week he was interviewed by MassResistance, an anti-LGBT hate group as identified by the Southern Poverty Law Center.
[Editor's Note: Sen. Lombardi denies speaking with MassResistance about last night's hearing. He said he spoke with someone from the Faith Alliance of Rhode Island. MassResistance, on its website, said he spoke with them. MassResistance is a member of the Faith Alliance of RI, as is the Catholic Church. ]
"Last week MassResistance spoke with Sen. Frank Lombardi (D-Cranston), one of the committee members. Sen. Lombardi, who supports traditional marriage, predicted the vote of the 10-member committee would be a tie — meaning the bill dies. But he acknowledged that it's is only his best speculation."
Lombardi also expressed concern that a second bill, S0708, which would put equality on the ballot and up for popular vote but also contains broadly worded and unconstitutional "protections" to preserve the rights of religious folks to discriminate against LGBT persons in their places of business is a "back door" attempt to slip Marriage Equality into law. Needless to say Lombardi opposes any bill that might conceivably acknowledge LGBT rights.
For his part, Brian Camenker, the Voldemort of MassResistance, is once more going to darken Rhode Island with his presence and plans to testify at tonight's hearings. He promises that FAPSMEG, aka the Faith Alliance, http://www.psmarriagebygodri.com/index.html is planning an even bigger presence than last time.
Tonight should be quite a party.
Sen. Lombardi Interviewed On Anti-LGBT Website

,