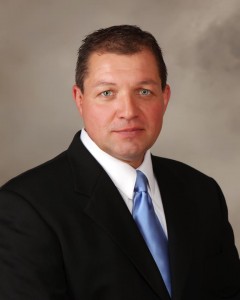 The fact that Stephen Casey requires endorsement is a bit ludicrous, considering he defeated his Democratic primary opponent by a safe margin and has no other party opponent on the ballot come November 6. But a "Do over, 'cuz I wasn't ready!" write-in campaign by his primary opponent has Casey continuing his election efforts in order to ensure the Woonsocket, District 50 House seat is his.
And it damn well should be.
Stephen Casey deserves this seat on merit alone. The twelve-year Woonsocket resident is a firefighter and the son of a current town politician. He and his wife, Debra, own a home on Park Ave. where he mows his own lawn and pays taxes on his house and two older cars. In Woonsocket, his taxes are higher than he would like, but necessary to avoid desperate measures for Woonsocket, such as the city being handed to a receiver to be taken into bankruptcy. Casey is willing to accept this current sacrifice as a necessary reality, but hopes that, as a representative, he can provide a strong voice to bring Woonsocket back to economic, middle class stability.
Casey holds a degree in communications from Boston College and, before becoming a firefighter, he worked in the financial industry in both customer service and supervisory roles. He supports serious reconsideration of the state tax codes, instituted in 2006 and re-instituted in 2010. The regressive tax policies were initially designed to attract job creators by "simplifying" the tax codes. In reality, the policies gave tax breaks to the wealthiest Rhode Islanders and left working families to make up the difference. Apparently, seeing as the state boasts the second highest levels of unemployment in the nation, (and, according to the RI DLT's LMI, Woonsocket's are higher than state average) the current tax system has not served its purpose. Casey supports tax equity, where millionaires and working families all pay their fair share of taxes. Furthermore, Casey believes in a long term approach to attracting business to Woonsocket, starting with straightening out the city's school system, thereby making it a desirable place to raise a family. He emphasizes Woonsocket as being a well located community, but businesses are moving out rather than moving in. Casey aims to change that.
Stephen Casey believes in a hands on approach to everything he does. He has personally marched the streets of the city, knocking on doors and offering a winning smile and an open mind. He listens and offers main street solutions to problems created by wall street and its supporters. He attends School Committee and Council meetings to find out what the people say about Woonsocket's strengths and weaknesses.
At a fundraiser event held at a local Woonsocket tavern, one found, not only suits and ties but jeans and Patriots jerseys as well. This reflects Casey's attitude toward making change his highest priority. "I never fancied myself a politician." he said in an interview. Rather, he saw a problem and decided to take a level headed approach to helping to solve that problem. He discussed it with his wife and the two agreed to tackle the problem from the middle class out and the bottom up.
Stephen Casey is a newcomer to politics and he believes in taking the high road. When asked about his message he says, "I've never been into name calling … people are tired of hearing it." He wants people to get out and vote. That is their right as Americans and he emphasizes the sacrifices Americans have made throughout history for that right. And if they are tired of politics as usual and desire change, vote for Stephen Casey.
In this author's opinion, they already have and that is why Casey took the primary. The people of district 50 made their decision once and now, in spite of the obstacles that have been placed before him in what should be a clear road to the House of Representatives seat for Woonsocket, the people will vote again. If they want an honest, hard working, hands-on candidate determined to do whatever is in his power to change Woonsocket and Rhode Island for the better, they will vote Stephen Casey.
For these reasons, my endorsement for House of Representatives: District 50 – Woonsocket goes to Stephen Casey.
Stephen Casey for Woonsocket State Rep

,