Providence, Pawtucket, Central Falls and Woonsocket are not only four of the most "highly distressed" cities in the state in terms of municipal budgets, they also have the highest percentage of foreclosures, according to a new report from HousingWorks RI.
Central Falls has the highest percentage of its housing stock lost to foreclosure since 2009 with 13.66 percent of the supply. Providence is the second highest in the state with 9.78 percent. Woonsocket is third with 8.21 percent and Pawtucket fourth with 6.5 percent. West Warwick, the other city identified by Gov. Chafee as being "highly distressed" was sixth after North Providence.
"No community in Rhode Island has been immune to the volatile housing market, but foreclosures affect communities differently depending on the location of those foreclosures," reads the report. "For example, in the state's urban communities, high concentrations of foreclosures can blight entire neighborhoods with boarded up buildings."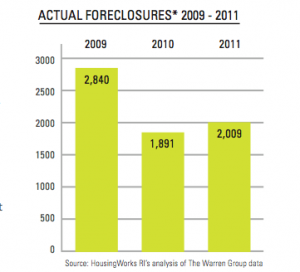 Also, the total number of foreclosures in Rhode Island went up in 2011, after dipping down in 2010, according to the report. In 2010, there were 1,891 residential foreclosures in the state, an average of 157 a month. In 2011, the number of foreclosures increased to 2,009 – or an average of 167 per month, according to the report. In 2009, there were 2,840 foreclosures in Rhode Island.
With almost a third of foreclosures in the state since 2009 being multi-family homes, Rhode Island's rental home economy has been decimated by the foreclosure crisis, says the report – noting that in three years the state lost an estimated 6,300 rental properties.
"The increased demand for apartments coupled with a decreased supply has made affording a quality rental home much harder for Rhode Islanders," reads the report. "The high rates of multifamily foreclosures in the state have resulted in the rental housing market becoming one of the most vulnerable segments of our economy. 40 percent of Rhode Islanders rent their homes and 1 in 4 of those renters are extremely cost burdened, spending more than 50 percent of their income on housing expenses."
Central Falls and Providence have the highest percentage of multi-family home foreclosures, accounting for more than 50 percent of the total in the state.
"Each multi-family foreclosure affects multiple rental homes, which in turn threatens tenants with possible eviction," according to the report. "For every multi-family property foreclosed, approximately two to three families find themselves without shelter."
HousingWorks RI offered some potential fixes for this crisis in its report:
"For Rhode Island to remain truly competitive in attracting and retaining businesses and growing a vibrant workforce, the state must elevate long-term affordable housing into its overall economic development strategy and develop a consistent funding policy for long-term affordable housing development and operation.

The $25 million housing bond included in the Governor's FY2013 budget is a first step, but lawmakers must consider a $50 million housing bond in order to maintain the success of the state's Building Homes Rhode Island program. Investment in affordable housing programs will help the state emerge from the foreclosure crisis economically stronger.

Other states are taking decisive actions to grow their supply of long-term affordable rental homes. For example, in Massachusetts, the Governor's FY 2013 budget recommends spending almost $375 million on housing programs, an increase of more than $25 million over current spending in FY 2012. In Connecticut, the Governor recently announced that he is substantially increasing the state's commitment to affordable housing as a driver for economic growth, bringing that state's total commitment to nearly $500 million over the next ten years."
Click HERE to see the full report.
Struggling Cities Also Have Highest Foreclosure Rate

,