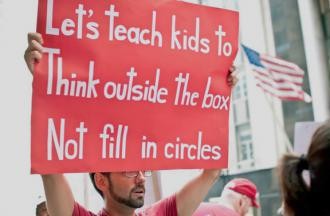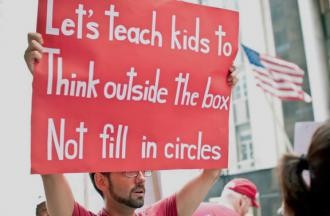 It is a bright autumn day in early to mid October. Students from all over the state are sitting quietly in rows. On their desks are booklets and number 2 pencils. It's NECAP time.  Soon the teacher gives the O.K. to begin and in unison kids take out a book and begin reading instead. Thus begins a peaceful protest to the standardized testing craze imposed upon young people as a graduation requirement. Wishful thinking? Maybe not.
Much emphasis has been placed on who gets hurt by testing. English Language Learners, those with special needs and kids from the poorer neighborhood are cited most. As more and more voices representing these students are heard the general public is taking notice. I strongly believe that all students are hurt by this testing mania – even those who test well.
Take a look at those who are driving the testing bus. This is a corporate model that is overly simplistic, designed to fail kids and creates a crisis by blaming teachers. It is a self-perpetuating system that will make money for the testing people and also keep teacher's salaries down.
I am not a psychometrician. But like Bob Dylan once wrote/sang, "You don't need a weatherman to know which way the wind blows." While it is nice that some really smart people argue in mathematical terms the world turns and kids in RI are still being threatened with not graduating due to a standardized test. We need more than mathematicians and Providence kids standing up in protest. What we need is a good old act of civil disobedience that would make Henry David Thoreau and Martin Luther King proud. Parents, teachers and students will all be needed to turn this thing around.
Over a 30-year period I have worked with hundreds of talented and caring teachers. Have there been those who were not the greatest? Yes there have been a few. But, far and away the teachers I have encountered have been talented and committed professionals. To say they don't care or are not effective based on standardized test results is sad.
To say that East Greenwich teachers are better than those in Central Falls based on tests is also not fair.  We are talking about two completely different dynamics. It is insulting to compare teachers based on standardized tests. Blaming them and comparing them helps create part of the 'crisis' we are hearing about in education. It also allows for a standardized system of learning where teachers are interchangeable parts and kids are empty vessels waiting to be filled with mandated knowledge.
Along the way the art of teaching is lost. The unique ability for a teacher to connect with those in his/her classroom is essential. Information is only part of a quality education. Why are people trying so hard to erode the student/teacher dynamic?
Sure, measuring student progress is important. Sure, having good teachers in the classroom is a vital component of a quality education. With all of this said there are other things that are equally (if not more so) important. Sure, the student/ teacher dynamic is essential. Sure, no one measure should determine the academic success of a student. Sure, socio-economics and other social factors need to be factored into this debate. Sure, teaching to tests, flunking 40% of the student population, blaming teachers and stressing kids out is, at best, counter productive.
On a whole different level we should be teaching our kids how to cultivate curiosity and critical thinking. By doing so, we might add a bit of panache to a system intent on producing automatons. Freedom of thought should be considered a primary right and goal of how we educate our kids. It may take more time and effort to do so but the end result would lead to a more empowered group of kids. Malvina Reynolds wrote a scathingly sardonic tune "Little Boxes' back in the early 60's. She basically was offering commentary about how our society was promoting conformity as success. Who would have thought that there is still a push to make kids out of 'ticky tacky so they'd all look just the same'. Thank goodness the kids are beginning to figure this out. We need more adults to chip in moving forward.
The education industrial complex will soon impose a new round of tests in a few years. Yahoo! This will mean more money spent on tests, computers (for the tests) and remediation. Maybe if we could get parents to support their kids bringing in books and dropping the pencils (on those crisp autumn days) much of this can be averted. At the very least parents can call up their superintendents and ask that their child's scores not be included in the districts aggregate.
We could call this movement 'Bring a book for the NECAPs'. Now wouldn't that be one heck of a civics lesson?