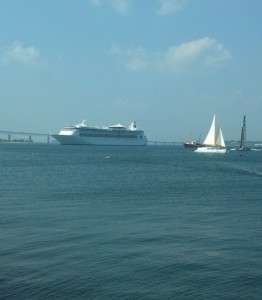 Right on cue, Summer Solstice arrived on June 20 and ushered in temps well into the 90's, providing the first blast of real heat for Southern New England this year. It was about time too, the choruses of "When is it going to warm up?" were getting a little stale.
Well, warm up it did. With schools out and summer vacation just getting into full swing, the shoreline beaches were packed today and the roadways leading to them were clogged starting early in the morning. Routes 4, 1 and 102 were at near standstills around noon today and the traffic was sustained well into the afternoon as those who couldn't get to the beach early,  made their way down later in the day.
Across the bay in Newport, the situation was much the same, except in the case of the City by the Sea, there is a cruise ship anchored offshore and plenty of tourists were on hand in the city's shopping and tourist areas, spending money and providing a much-needed boost to the state's economy.
The tourists in Newport also got to see a real show today, as the eight teams vying in the America's Cup Race Series were all in the water today, testing the carbon fiber hulls and various sails in advance of next week's races, scheduled to kick off on Thursday.For those unfamiliar with America's Cup racing, the ships have evolved over the years but the premise is the same; just think of it as NASCAR, for the very rich.
The RIEDC has done a fantastic job putting this event together, partnering with America's Cup Race Management and NBC Sports, among others. Unlike America's Cup races here in years past, these races will be visible from shore and the base at Fort Adams will provide spectacular views of the action from very close in-shore. There will be plenty of other activities on site with action taking place from 11 am – 7 pm from June 28-July 1. Prior to the 28th, entrance to Fort Adams and the racing facilities will be free, anyone wishing to attend on race days will have to purchase tickets and pay to park.