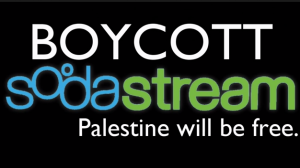 SodaStream manufactures devices to make carbonated beverages at home and the company intended to run an ad for their contraption during the Super Bowl. But apparently CBS turned them down because Coke-a-Cola and Pepsi objected to the competition.
(Update: A Sodastream ad did air during the game)
But SodaStream is not only a threat to Big Cola, it's also made by an Israeli company in Mishor Adumim, part of an Israeli settlement on stolen Palestinian land in the West Bank. The international community (except perhaps the U.S. and Israel) recognizes these settlements as illegal.
Companies that operate in the settlements exploit Palestinian land, resources and labor.  They enjoy government support including tax incentives and lenient enforcement of regulations, while the taxes and profits go to support the Israeli economy.
You can learn more here.
American organizations asking people to boycott their products include Jewish Voice for Peace, United Methodist Kairos Response, CodePink, the US Campaign to End the Israeli Occupation and many others.