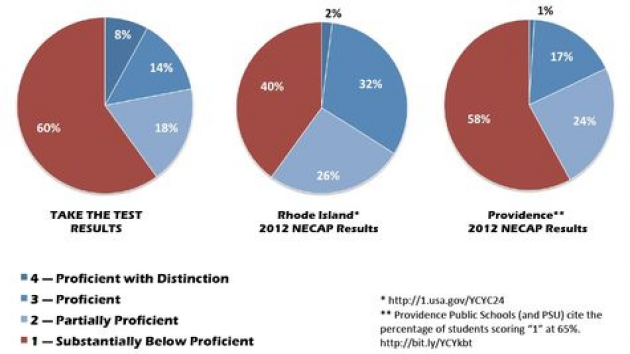 Of the 50 or so lawmakers, educators, and all-around successful individuals that partook in the mock NECAP test on Saturday, 60 percent scored a grade that would put them in danger of not graduating high school under the state' new high stakes test graduation requirement.
[vsw id="Bks4PGdOnuc" source="youtube" width="525″ height="344″ autoplay="no"]
At a press event at the State House, Darren Fleury of the Providence Student Union said the mock test was given to "an accomplished group … including elected officials, attorneys, scientists, engineers, reporters, professors, and directors of well respected nonprofit organizations." In short, 30 of the 50 test takers scored "substantially below proficient" on the test.
Education Commissioner Deborah Gist chastised the adults who took the test, but she still hasn't refuted Tom Sgouros' excellent critique that the test was not designed to measure individual student performance.
"What is bad is to assume that doing well on this test to equates to doing well in high school. What's bad is to assume that arbitrarily chosen cut scores that define the difference between proficient and partially proficient are anything more than rough indicators," he said, "What's bad is to ignore the advice of people that understand the statistics and use this  tool in a way that hurts young people."
[vsw id="q56vVi_IPB4″ source="youtube" width="525″ height="344″ autoplay="no"]
Rep. Teresa Tanzi, who took the mock test, offered her take on the NECAP graduation requirement, which had less to do with the statistical analysis of the test, and more to do with her own daughter.
[vsw id="Pb1A-FxL4a4″ source="youtube" width="525″ height="344″ autoplay="no"]