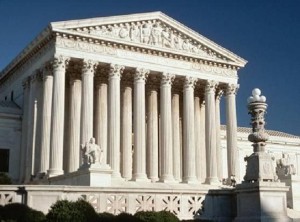 What a day for the LGBT community!
The Supreme Court heard challenges to California's Proposition 8 today, and tomorrow it will hear arguments against the Defense of Marriage Act (DOMA).  (The audio and transcript are available here, if you have time to check them out!)
Let's hope that Chief Justice John Roberts kept his gay cousin in mind during the Prop 8 argument, as she was in attendance with her partner, in seats reserved for guests of the justices.
Four Democratic senators reversed their stance on DOMA in the past several days, but unfortunately, not everyone sees the significance of this civil rights issue and have a change of heart.  There are many who refuse to even call it a "civil rights" issue.  What happened at the RI State House last week played out once more near the Supreme Court today, at an anti-gay marriage rally, when African-American pastor Rev. Bill Owens said, "I marched in this same location years ago.  They are trying to say they are suffering the same thing we suffered. They are not. … Not even close."
Engaging in "Oppression Olympics" serves absolutely no one, and I am grateful to see public displays of solidarity in all communities across the country, and a million examples of Love for every hateful word spoken.