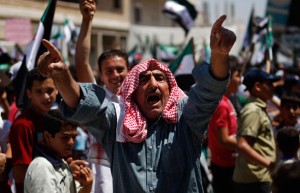 Michael Hastings once declared "I didn't know there was a progressive security policy." He then proceeded to suggest that if you wished to be part of the debate about security in America, you needed to be either a neocon or a liberal hawk. Today, as the United States looks increasingly likely to intervene in Syria, it's worth pausing to reflect about where the progressive community stands.
The last ten years have done a number on progressive policies towards war. Afghanistan and Iraq were sold to the American public as wars about denying terrorism bases of support; in the latter case, it included outright lies about the presence of "weapons of mass destruction." But as the disasters in South Asia and the Middle East lengthened, the impetus for remaining drifted. What had started as limited punitive expeditions became nation-building humanitarian projects. We were unable to leave for the people of Iraq and Afghanistan, who would suffer viciously if Islamist radicals came to power.
Under President Barack Obama (who opposed the invasion of Iraq as an Illinois state representative), the rationale of denying bases for terrorism has remained a key object of U.S. security policy (see, Yemen). But, perhaps thanks to the inheritance of its predecessor's wars, the administration has also begun thinking in terms of the "humane intervention" that rationalized the occupations of Iraq and Afghanistan.
I should note that the strategy of invasion seems to have fallen away. Indeed, it's hard to think of a large-scale commitment of ground forces the American military hasn't fought to a stalemate or loss since World War II. Our success has been limited to simpler smash and grab operations. The "success" of Libya was along those lines; establish air supremacy, use U.S. special forces to bolster local forces. Get out quickly.
The problem with that "humane" intervention is that it merely continues long-standing U.S. security policy; do something that immediately benefits us and ignore the long-term consequences. Once a war "officially" ends, what comes next is usually the important part. Do the victors massacre the losers? Will a constitution be written or elections held? Will generals seize power? Those consequences can be more inhumane than the impetus for intervention in the first place.
Syria, and its place in the Asian and African upheavals of 2011, represent the ambivalent nature of America's interventionism. On one hand, American interventionism is rightly viewed as suspicious (Hastings noted that "humane intervention" seemed to only occur when it aligned with U.S. strategic interests, which he pointed out was probably a major reason for our hesitance to intervene there). On the other hand, America is very good at removing its enemies from power; a powerful friend to have for any resistance movement.
Unlike Libya, Syria holds no immediate strategic value for America. Indeed, since a successful revolution could bring an Islamist government to power, it could harm America's strategic interests only by threatening Israeli security; alternatively the civil war could threaten Turkish security as well, which would impact our strategic interests. The presence of Islamists (not to be confused with "Islamic" or "Muslim") represents a problem for America. Under Bush, Islamist governments were labelled the enemy, and America suffers from anti-Muslim prejudice (which exists across the political spectrum, from Glenn Beck to Bill Maher). Since 2011, democratization in the Middle East has seen the success of Islamist political parties, who aren't as aligned with Washington as their former secular dictators.
If America was simply in favor of promoting democracy, we would accept this as the nature of politics and move on. But since America prefers democratic results that favor its interests, our responses to democracy aren't always laudable. Whether it's socialism and heterodox economics in Latin America or Islamism in the Middle East, neoconservative doctrines have led to the denouncing of democratic nations across the world. It's easy for neocons, with their Trotskyist black and white view of the world, to equate America's interests with the right thing to do. But for anyone favoring a bit more nuance, who wants to support the right thing, it's a bit harder.
Syria doesn't provide an easy answer, for anyone. And it will be impossible to think of a progressive security policy that can really encompass the situation here. Do we place boots on the ground, occupy the nation, and establish a democracy (the World War 2 model)? We don't have the stomach for the manpower commitments required nor the financial commitments required. Nor is it even the right thing to do. Use our weaponry to attack the regime as a punishment for using chemical weapons? At best, it eliminates critical military infrastructure in terms of people and actual infrastructure, but it doesn't guarantee a cessation of chemical warfare. Cripple Syria's military, as in Libya? A successful revolution leaves us with all of the post-victory questions from before. One peaceable solution I've seen advanced was to assist the migration of all Syrians who wish to flee the country. But even that offers troubling questions about logistics, refugee status, and what is to remain in Syria when the diaspora has finished.
There continues to be no such thing as progressive security policy. Because progressive security policy can't provide a right answer here. If Syria's conflict engulfs its neighbors, do we intervene? Or do we let its neighbors deal with it? Is this a job for America, the United Nations, or the Arab League? Until progressives can formulate a philosophy that can be applied across all such situations, there will be no progressive security policy.