Browse:
Home
/
Donald Grebien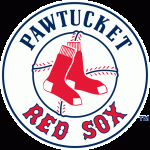 By William J Conley Jr on August 28, 2017
Put another way, it would be a net loss to Rhode Island should the team decide to relocate to another state, because we earn more revenue from the team than it would cost state taxpayers in subsidies.
Posted in Class Warfare, Corporate Greed, Featured, National News, Pawtucket, Rhode Island, State House | Tagged Apex, Capitol Television, Dominick Ruggerio, Donald Grebien, Donna Nesselbush, elizabeth crowley, General Assembly, James Doyle, PawSox, pawtucket red sox, senate finance committee, State House, william conley | 2 Responses
By David Norton on January 14, 2017
We chose City Hall to highlight the fact that Pawtucket pays one of the highest vehicle excise taxes in the state at 5.3 percent. Pawtucket residents have been paying this very high tax for many years without relief.
Posted in Activism, Class Warfare, Featured, Inequality, Pawtucket, Providence, Taxes, Transportation | Tagged car tax, Donald Grebien, Fair Shot Agenda, Jamestown, Nicholas Mattiello, pawtucket, Pawtucket City Hall, Providence | 2 Responses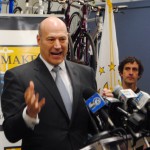 By Steve Ahlquist on March 22, 2016
When Rhode Island takes the money, they should know that the money comes, in part, at the expense of the Greek people, who suffer because a vampire-like Wall St. bank has consigned the country to half a century of brutal, soul-destroying austerity.
Posted in Class Warfare, Corporate Greed, Criminal Justice, Economics, Events, Featured, International News, National News, News, Photos, Rhode Island, Video | Tagged badelli-hunt, Donald Grebien, Gina Raimondo, goldman sachs, greece, jack reed, james diossa, jorge elorza | 7 Responses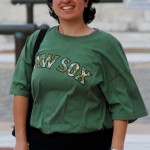 By Elisha Aldrich on June 26, 2015
The potential move of the Pawtucket Red Sox to downtown Providence has caused heated debate between the public and the General Assembly since the idea was first floated earlier this year. On Thursday, opponents of the move rallied outside of the State House to express their passionate disapproval for the move. Pawtucket Mayor Donald Grebien […]
Posted in Featured, News, Rhode Island, Sports, State House | Tagged Donald Grebien, Elisha Aldrich, I-195, I-195 Commission, jim skeffington, Larry Lucchino, McCoy Stadium, PawSox, pawtucket, pawtucket red sox, Sam Bell, Sharon Steele | 3 Responses