Browse:
Home
/
driver's license
By Bob Plain on March 22, 2017
Senator Frank Ciccone wants a vote this year on his bill that would give undocumented Rhode Islanders a limited driver's license. "It's time," said two-time sponsor of the legislation. "I want a vote on the bill. I've already approached the leadership on the Senate side. Let's not delay and let's not send it to further […]
Posted in Featured, Immigration, State House | Tagged ciccone, driver's license, perez, williams | Leave a response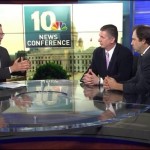 By Bob Plain on March 20, 2016
The nativists are restless as Rhode Island considers issuing driver's licenses to undocumented immigrants. The NBC 10 Wingmen discuss. Correction on my part: Jon Brien isn't a nativist for calling undocumented immigrants "illegals" – he's committing a nativist act.
Posted in Featured | Tagged driver's license, Immigration, nbc10, undocumented workers, wingmen | 1 Response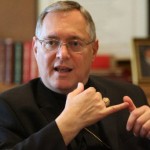 By Steve Ahlquist on March 9, 2016
"I wish to express my support for the proposal to provide special, limited licenses for undocumented individuals in Rhode Island. It seems to be a rather practical approach that will obtain information about individuals who are already driving in our State. Additionally it will, in the long run, promote public safety. It is common sense legislation that will do much more good than harm."
Posted in Civil Rights, Class Warfare, Featured, Immigration, Religion, Rhode Island | Tagged Anastasia Williams, driver's license, john depetro, Roman Catholic Diocese of Providence, Thomas Tobin, undocumented workers | 3 Responses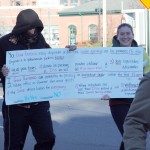 By Steve Ahlquist on December 20, 2015
The groups carried the written promise with them as they marched, signed by the then candidate for governor when she met with them. The pledge originally said that as Governor she would issue the executive order within thirty days of being elected, but Raimondo crossed out thirty days and wrote in "one year."
Posted in Activism, Civil Rights, Class Warfare, Criminal Justice, Events, Immigration, Labor, National News, News, Photos, Providence, Race & Racism, Rhode Island, State House, Video | Tagged Comité en Acción, Community Safety Act, driver's license, English for Action, Gina Raimondo, undocumented workers, Victoria Ruiz, We Are all Arizona | 2 Responses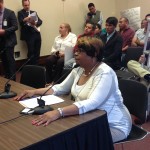 By Elisha Aldrich on May 28, 2015
"We are not just nomads looking for benefits." That's what Jose Chacon, an undocumented immigrant living in Rhode Island, said to the  House Judiciary Committee on Tuesday, in support of H6174, which proposes giving driver's licenses to illegal immigrants. "It's just a human thing to do," he said. In its current state, the bill allows […]
Posted in Immigration, State House | Tagged ACLU, Anastasia Williams, driver's license, Elisha Aldrich, General Assembly, House Judiciary Committee, house of representatives, Immigration, Rhode Island State House, Steven Brown, terry gorman | 1 Response