Browse:
Home
/
driver's licenses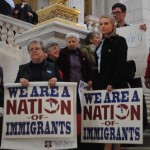 By Steve Ahlquist on September 8, 2017
The Democratic Party has railed against Trump's decision to end DACA in six months but actual action, in the form of legislation that could help undocumented immigrants in RI, has not passed in the Democrat controlled General Assembly.
Posted in Cities and Towns, Civil Rights, Featured, Immigration, Justice, National News, Rhode Island, State House, Youth | Tagged ACLU of Rhode Island, Alliance of Rhode Island Southeast Asians for Education, Blackstone Valley Economic Progress Institute, Cambodian Society of Rhode Island, DACA, DARE, Deferred Action for Childhood Arrivals, Direct Action or Rights and Equality, donald trump, Dorcas International Institute of Rhode Island, driver's licenses, fuerza laboral, General Assembly, ice, Latino Policy Institute, NAACP Providence Branch, providence student union, Providence Youth Student Movement, PrYSM, Refugee Dream Center, Rhode Island Coalition Against Domestic Violence, Rhode Island Democratic Party, Rhode Island State Council of Churches, Sojourner House, United States Immigration and Customs Enforcement | 1 Response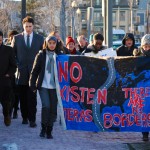 By Rodrigo Pimentel on September 22, 2016
The Coalition for Safer Rhodes is organizing a march that aims to send a clear message to the General Assembly — that they must act to ensure that our roads and communities are safe by ensuring that all immigrants, regardless of their immigration status, are able to earn a driver's license. In order to send […]
Posted in Activism, Events, Featured, Immigration | Tagged Coalition for Safer Rhodes, driver's licenses, Immigration, Nicholas Mattiello | Leave a response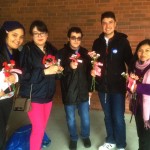 By Rodrigo Pimentel on May 9, 2016
Undocumented labor, faith and the student community called on parishioners of the parish and Speaker Mattiello to recognize the need for limited licenses for the undocumented community, and the need for the General Assembly to pass H7610.
Posted in Activism, Civil Rights, Featured, Immigration, Politics | Tagged driver's licenses, Immigration, Licenses for All, Nicholas Mattiello, Nicholas Mattiello | 1 Response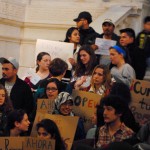 By Steve Ahlquist on March 16, 2016
Two competing bills were heard in the House Judiciary Committee meeting Tuesday evening in a hearing that lasted well over 6 hours and had over 4 dozen people testifying. House bill 7610, submitted by Representative Anastasia Williams, would grant driving privilege license to undocumented immigrants. House Bill 7859, introduced by Representative Arthur Corvese, would make […]
Posted in Activism, Civil Rights, Class Warfare, Events, Featured, Immigration, Labor, News, Race & Racism, Rhode Island, State House, Video | Tagged Anastasia Williams, Arthur Corvese, Doreen Costa, driver's licenses, fair, Federation for American Immigration Reform, Gina Raimondo, james diossa, jorge elorza, Joseph Almeida, riile, Robert Nardolillo, terry gorman, Undocumented Immigrants | 1 Response