Browse:
Home
/
east providence
By Bob Plain on February 9, 2017
Some of Rhode Island's congressional delegation have been the focus on intense protests from local progressives hoping to convince them to resist President Donald Trump's anti-social justice agenda. But the four Democrats who represent Rhode Island in Congress aren't shying away from the attention. Indeed they are inviting more. This Sunday they are holding a […]
Posted in Congress, Featured | Tagged Cicciline, delegation, east providence, langevin, reed, Resist, resist Trump, whitehouse | 3 Responses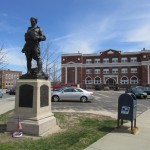 By Rodrigo Pimentel on January 10, 2016
In 2012, East Providence's state appointed budget commission voted to end the City Council's health benefits… However, in October of 2015, it became clear that some members of the City Council had quietly started to receive health benefits once again.
Posted in Featured, Health Care, News, Rhode Island | Tagged east providence, East Providence City Council, Tommy Rose | 1 Response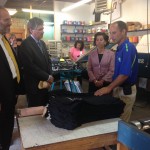 By Elisha Aldrich on August 13, 2015
Nelson Silva, the owner of Graphic Ink, a screen-printing and embroidery shop in East Providence, likes to joke that he normally works half days- 6 am to 6 pm. That's what he told Governor Gina Raimondo Wednesday afternoon when she toured Graphic Ink in an effort to spread information about her different economic initiatives, and […]
Posted in Business, Economics, Rhode Island | Tagged Business, commerce corporation, east providence, Economy, Gina Raimondo, Gina Raimondo, Jobs, small business | 2 Responses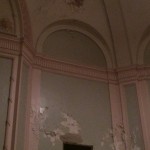 By Dan Lawlor on December 31, 2014
The decaying school buildings in Providence are a monument to the abject failure of Rhode Island's political leadership to invest in all the people of the state. The legislature is willing to spend more than $40 million on a parking garage for lawyers and court employees downtown but not for public school kids in the […]
Posted in Education, Featured | Tagged adequate education, east providence, Education, gilbert stuart middle school, Providence, schools | 3 Responses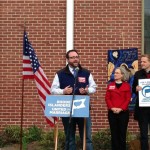 By Bob Plain on April 23, 2013
For Rhode Island progressives, it's the most widely-anticipated day of the 2013 legislative session. For anyone who values equal treatment under the law, it's even bigger than that. Today is the day the Senate Judiciary Committee votes on marriage equality. The House already passed it overwhelmingly, the governor is a big supporter too and the […]
Posted in Civil Rights, LGBTQ | Tagged conley, coventry, east providence, lgbtq, marriage equality, raptakis, Rhode Island State House | 2 Responses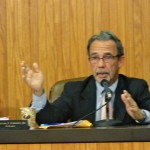 By Bob Plain on January 9, 2013
Teresa Paiva Weed gave new state Senator William Conley the worst job in the legislature. He gets to be the fall guy for marriage equality this session as the x factor on the newly constituted Senate Judiciary Committee. Five Senators will likely support marriage equality and four won't. Conley is holding his cards tight for […]
Posted in Featured, LGBTQ, State House | Tagged east providence, marriage equality, Rhode Island State House, william conley | 3 Responses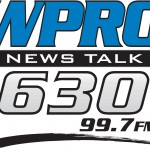 By Bob Plain on October 17, 2012
Most interesting thing happening today: Matt Allen, Ian Donnis, Ted Nesi and Josh Fenton debate the influence of talk radio in Rhode Island politics at RIC. While radio may not seem like the medium of the future, as the most passive way to consume content I think it is likely to rise again. And even […]
Posted in Featured | Tagged chafee, east providence, Jamie Dimon, narragansett indians, ripr, Tom Brady, wpro | 2 Responses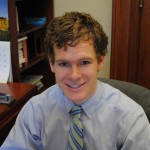 By Bob Plain on June 21, 2012
Sam Lovett, who worked for Gov. Chafee as a communications associate and before that on David Segal's campaign, is running for a legislative seat in the State House to represent East Providence. He's 24 years old and says politically he sees things from "a millennial point of view." What does that mean? The Democrat says […]
Posted in Elections, Featured | Tagged east providence, Elections, Rhode Island State House | 1 Response