Browse:
Home
/
education commissioner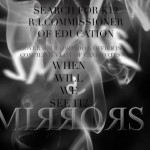 By Wendy Holmes on August 3, 2015
After the much touted "listening sessions" the search sank from public view. There was no BOE Search Committee and, as far as I can discover, no new job description that incorporated the findings of the listening sessions. The one that I received from Angela Teixeira, special assistant to the commissioner and liaison to the Board of Education, is dated September 2004.
Posted in Education | Tagged Education, education commissioner, Gina Raimondo, gist, ken wagner, Rhode Island, ride | 5 Responses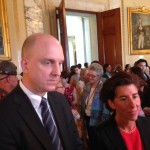 By Sheila Resseger on July 13, 2015
This spring Governor Raimondo held meetings with various stakeholder groups to find out what characteristics they would want in an education commissioner. According to the Providence Journal article of July 7, "Common themes emerged, with each group calling for a leader who listens and is collaborative, thoughtful, and student-centered." In my view, the choice of […]
Posted in Education, Featured | Tagged Education, education commissioner, Gina Raimondo, ken wagner, Rhode Island | 1 Response