Browse:
Home
/
Ellen Smith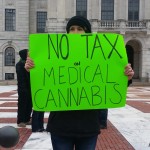 By Steve Ahlquist on February 23, 2016
Opponents of Governor Gina Raimondo's proposed tax on medical marijuana gathered outside the State House Tuesday evening to raise awareness about what some have called "an absolutely cruel proposal" to tax medical marijuana.
Posted in Activism, Civil Rights, Class Warfare, Events, Featured, Health Care, Marijuana, National News, News, Photos, Rhode Island, State House, Video | Tagged Bobby Brady-Cataldo, Ellen Smith, Gina Raimondo, jared moffat, JoAnne Leppanen, Peter Benson, regulate ri, RI Patient Advocacy Coalition | Leave a response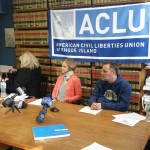 By Steve Ahlquist on February 11, 2016
"I will not only lose my patients, I will lose my purpose in life," said Smith, who says the anxiety over this proposal has contributed to her suffering. One night, during a particularly bad breathing episode, she comforted herself that perhaps her death might be used to convince the Governor to change her mind.
Posted in Activism, Civil Rights, Class Warfare, Corporate Greed, Events, Featured, Health Care, Marijuana, News, Rhode Island, State House, Video | Tagged ACLU, American Civil Liberties Union of Rhode Island, Bobby Brady-Cataldo, Ellen Smith, Gina Raimondo, JoAnne Leppanen, Medical Marijuana, Peter Benson, RI Patient Advocacy Coalition, Steven Brown | 5 Responses