Browse:
Home
/
eric hirsch
By Steve Ahlquist on September 15, 2016
"Criminalization is not a solution to homelessness," added Roger Williams University School of Law Professor and Assistant Dean Andrew Horwitz. "It is incredibly cruel to those experiencing homelessness, dehumanizing the individuals and making it harder to connect to advocates and services.
Posted in Activism, Civil Rights, Class Warfare, Featured, Homelessness, Inequality, Infrastructure, News, Photos, Providence, Race & Racism, Rhode Island, Transportation, Video | Tagged Andrew Horwitz, DARE, direct action for rights and equality, Downtown Improvement District, eric hirsch, Joseph Paolino, kennedy plaza, providence college, Reclaiming Our Public Spaces, Rhode Island Homeless Advocacy Project, rihap | Leave a response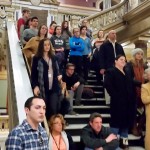 By Steve Ahlquist on January 26, 2016
In the rotunda of City Hall advocates for the homeless gathered to release a new study validating the harassment and discrimination being felt on the streets and to demand that Mayor Elorza immediately instruct the Providence Police to stop their practice of criminalizing homelessness and harassing homeless individuals.
Posted in Activism, Civil Rights, Class Warfare, Events, Featured, Homelessness, News, Photos, Poverty, Providence, Race & Racism, Rhode Island, Video | Tagged Burnside Park, eric hirsch, homeless bill of rights, House of Hope CDC, Jim Crow, jorge elorza, Kate Miechkowski, kennedy plaza, Mary Kay Harris, Megan Smith, opening doors rhode island, PERA, Providence City Hall, providence college, Providence External Review Authority, Providence Police Department, Rhode Island Coalition for the Homeless, Rhode Island Homeless Advocacy Project, RICH, rihap, U.S. Department of Justice | Leave a response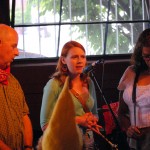 By Steve Ahlquist on June 1, 2015
The Gnomes, a global folk-fusion band, opened the event with about a half an hour of live music before being joined on stage by emcee Bill Harley. Harley gave a short talk about Richard Walton, and read one of his emails to give a flavor of the man, quoting Walton as saying, "I'd like life to be a hot hodge-podge of people of all sorts. All ages, all cultures, all colors, all everything."
Posted in Activism, Events, Featured, Homelessness, Labor, Rhode Island, Video | Tagged eric hirsch, Extraordinary Rendition Band, Institute for the Study & Practice of Nonviolence, Mirjaam Parada, providence college, Providence Renaissance Hotel, Red Bandana Awards, richard walton, Sister Ann, The Procaccianti Group, Zero: 2016 | 3 Responses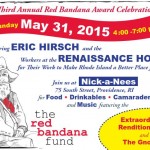 By Stephen R. Graham on May 28, 2015
This Sunday, the Red Bandana Fund will award Eric Hirsch and the workers at the Renaissance Hotel  Red Bandana Awards for 2015. The Award honors individuals and groups whose work embodies the spirit and work of Richard Walton, a longtime activist in the Rhode Island area who died in 2012. This is the third year […]
Posted in Activism, Events, Featured, Homelessness, Labor | Tagged eric hirsch, red bandana, red bandana fund, richard walton | 2 Responses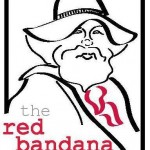 By Bob Plain on May 5, 2015
Congratulations to Eric Hirsch, a Providence College sociology professor who works with the homeless, and the employees of the Renaissance Hotel, who have been organizing for better working conditions. Both will be honored with Red Bandana awards this year. "It's a huge honor to get an award with Richard's name on it!" Hirsch wrote on […]
Posted in Activism, Featured | Tagged eric hirsch, red bandana, renaissance hotel, richard walton | 1 Response