Browse:
Home
/
erin lynch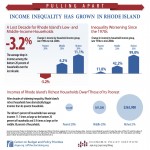 By Elisha Aldrich on June 3, 2015
The minimum wage in Rhode Island has risen every year since January 2013 and 2016 will be no different, moving up from $9 to $9.60 per hour. The measure passed on the floor of the state Senate in a 34-3 vote, and will soon be enacted into law. But as each year passes, the income […]
Posted in Economics, Featured, News, State House | Tagged Economic Progress Institute, Economy, Elisha Aldrich, erin lynch, income, Income Inequality, Kate Brewster, minimum wage, state senate, wages | 19 Responses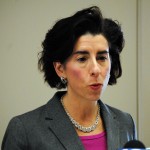 By Steve Ahlquist on March 9, 2015
Governor Gina Raimondo came out in support of bills in the General Assembly that would raise the minimum wage in Rhode Island to $10.10 an hour. "Nobody who works full time should have to live in poverty," said Raimondo, even as she acknowledge that raising the wage to $10.10 won't be enough.
Posted in Featured, Labor, State House | Tagged david bennett, Deborah Norman, erin lynch, george nee, Gina Raimondo, Rhode Island Department of Labor and Training, Rhode Island Hospitality Association, ROC United RI, Scott Jensen, UFCW | 2 Responses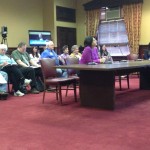 By John Marion on April 11, 2014
Last night the Senate Committee on Judiciary heard a full agenda of election bills.  You'll read a lot in the Projo and RI Future about the Voter ID repeal legislation Senator Gayle Goldin sponsored, and that deserves attention.  But there were a number of other really important pieces of legislation that are largely being ignored […]
Posted in Civil Rights, Elections, Featured, Politics | Tagged common cause, election, erin lynch, gayle goldin, online voter registration, Voter ID | Leave a response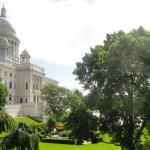 By Tom Sgouros on June 28, 2012
June in Rhode Island means two things: ripe strawberries and gubernatorial vetos. The silly way our legislature schedules things — with all important bills held until after the budget passes to ensure every legislator falls into line on that vote — means that hundreds of bills are passed in the last few days of the […]
Posted in Featured, Taxes | Tagged budget, erin lynch, Michael McCaffrey, Taxes | 1 Response

By Bob Plain on February 21, 2012
Trimming the costs of governance isn't inherently a bad thing, but charging the unemployed fees to access their account information probably isn't the best way for the state to save money. However, that's exactly what happened when Rhode Island outsourced the management of unemployment fund accounts to JP Morgan Chase in 2007. "JPMorgan Chase agreed […]
Posted in Economics, Politics, Rhode Island, State House | Tagged erin lynch, JP Morgan Chase, Unemployment, william walaska | 2 Responses