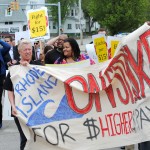 By Steve Ahlquist on May 16, 2014
The Smallest state, the smallest Wendy's, the smallest pay, I feel like a nobody," said one of the Wendy's employees on strike yesterday. "Today I feel strong." Here's video from the second public protest from Rhode Island fast food workers yesterday. You can watch another video from yesterday's strike here, and please check out these […]
Posted in Featured, Labor | Tagged fast food, Labor, wendy's fight for 15 | Leave a response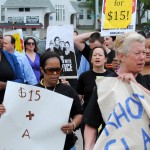 By Steve Ahlquist on May 15, 2014
Fast food workers are fighting for $15 an hour all over the country today – and all over Rhode Island. After a 6am action at a Burger King in Providence (photos essay here, video here), the workers and activists convened again at the Wendy's in Warwick, where the local protests began.
Posted in Economics, Labor | Tagged fast food, fight for 15, Labor, wendys | 2 Responses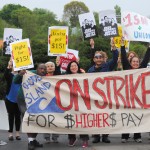 By Steve Ahlquist on May 15, 2014
Here's video from this morning's Fight for $15 protest at Burger King in Providence. There are protests today at fast food restaurants in Pawtucket, Providence at the Warwick Wendy's at noon. Robert Paquin, the executive director of the Rhode Island Republican Party, said he will be attending the Warwick Wendy's protest at noon.
Posted in Activism, Civil Rights, Class Warfare, Featured, Labor | Tagged fast food, fight for 15, Labor, wendys | 3 Responses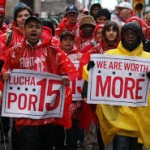 By Bob Plain on November 14, 2013
The movement to organize fast food workers for better wages and working conditions comes to Rhode Island today as employees will hold an action at the Wendy's at 771 Warwick Ave in Warwick. "We have to do without a lot," said Jo-Ann Gesterling, who has been working at the Wendy's in Warwick for 5 years, […]
Posted in Labor | Tagged fast food, fight for 15, jobs with justice, minimum wage, seiu, wendys | 31 Responses