Browse:
Home
/
Fred Ordonez
By Steve Ahlquist on April 11, 2017
The Community Safety Act is about safety, said Flores-Maldonado. "We have made compromises. We've made a lot of compromises… but you have to remember we are compromising our safety, and that is dangerous to a lot of us in this community."
Posted in Activism, Civil Rights, Criminal Justice, Featured, Immigration, Photos, Providence, Race & Racism, Rhode Island, Video, Youth | Tagged ACLU of Rhode Island, AJ Methe, Andrew Horwitz, Bryan Principe, Carmen Castillo, Community Safety Act, CSA, Curt Columbus, DARE, direct action for rights and equality, Eduardo Sandoval, Fred Ordonez, ice, Imaginary Entertainment, Immigration and Customs Enforcement, Jo-Ann Ryan, John Lombardi, jorge elorza, Joseph Buchanan, Justice Gaines, Kevin Jackson, Luis Aponte, Mary Kay Harris, Michael Correira, Michael Solomon, Peter Glantz, Providence City Council Ordinance Committee, Providence City Hall, Providence Youth Student Movement, PrYSM, Sabina Matos, Shannah Kurland, Sophia Wright, Step-Up Coalition, Stephen Fortunado, Steven Brown, Steven Dy, Steven Pare, Terrence Hassett, Trinity Rep, Vanessa Flores-Maldonado | 4 Responses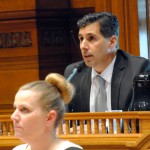 By Steve Ahlquist on July 9, 2015
Last year Providence City Councillor John Igliozzi proposed that future tax breaks for large corporations should include $15 minimum wage guarantees, but this year, as Chair of the Finance Committee, Igliozzi has failed to deliver on this proposal.
Posted in Class Warfare, Corporate Greed, Economics, Featured, Labor, Providence, Taxes | Tagged activism, cities and towns, Civil Rights / Liberties, Class Warfare, corporate greed, Democrats, Economic Development, Economy, Environmental Justice League of RI, fossil free ri, Fred Ordonez, Fuerza Laboral / Power of Workers, greg gerritt, I-195 Commission, IUPAT Local 195 DC 11, jesse strecker, jorge elorza, Labor, Le Meridien, news, Occupy, Occupy Providence, Politics, Poverty, Prosperity for RI, Providence, Providence City Council, Rhode Island, Rhode Island State House, RI Progressive Democrats of America, Starwood Hotels and Resorts, tax stabilization agreements, Taxes, Teamsters Local 251, Unite Here Local 217 | Leave a response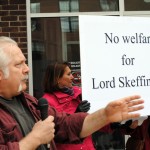 By Steve Ahlquist on April 28, 2015
"Providence is not a minor league city," said Asher Schofield, "We are what we dream ourselves to be. What we want to be. And we want to be major league. These are antiquated notions, the idea of public financing of private enterprise. This [deal] is not the grand notion that we need to have as a city moving forward… These minor league aspirations are beneath us."
Posted in Activism, Class Warfare, Corporate Greed, Economics, Events, Featured, National News, News, Photos, Politics, Poverty, Providence, Rhode Island, Sports, State House, Taxes, Video | Tagged capital good fund, DARE, direct action for rights and equality, Fred Ordonez, Gina Raimondo, green party, greg gerritt, James Skeffington, Larry Girouard, lauren niedel, Medicaid, Occupy Providence, Pat Ford, PawSox, Progressive Democrats of Rhode Island, Randall Rose, Republican Party, Rhode Island Sierra Club, RI Taxpayers, ri tea party, Roland Gauvin, Steven Frias | 6 Responses