Browse:
Home
/
Friends of the Blackstone
Friends of the Blackstone
By Steve Ahlquist on October 3, 2017
Paul Roselli, who describes himself as a "social justice, environmentalist and Invenergy power plant opposition leader" has declared himself as a candidate for Governor of the State of Rhode Island.
Posted in Activism, Burrillville, Climate, Elections, Energy, Featured, Infrastructure, National News, News, People, Politics, Rhode Island, State House, Water | Tagged Blackstone River Watershed Council, Burrillville Land Trust, Friends of the Blackstone, Gina Raimondo, Lincoln Chafee, National Governors Association, Paul Roselli, Rhode island Association of Conservation Commissions, Spencer Dickinson | 1 Response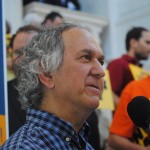 By Paul Roselli on December 19, 2016
I believe that many of you on the City Council and as residents question the value of selling water to a power plant. But you need to be heard and you need to ask questions. Why enter into an arrangement with an outside company when others have already rejected just such an arrangement?
Posted in Burrillville, Climate, Energy, Featured, Health Care, Infrastructure, News, Woonsocket | Tagged Audubon Society, Blackstone River, Blackstone River Watershed Council, Blackstone Valley National Heritage Corridor, Blackstone Valley Tourism Council, burrillville, Center for Disease Control, Charlestown, Clean Water Action, cumberland, EFSB, Energy Facility Siting Board, Environmental Council of Rhode Island, Friends of the Blackstone, Harrisville Water, Hopkinton, Invenergy, Lincoln, middletown, Nature Conservancy, North Smithfield, Pascoag Utility District, Resilient Rhode Island, Richmond, Save The Bay, Scituate, south kingstown, Thompson CT, tiverton, Woonsocket, Woonsocket City Council, Woonsocket's Utility District | 4 Responses