Browse:
Home
/
george nee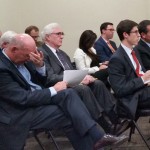 By Steve Ahlquist on November 19, 2015
Providence City Hall was electric with meetings being conducted behind closed doors. What happened in the Finance Committee room was theater, the real deals were all made out of sight. The Finance Committee meeting seemed meticulously planned so that when it started, it would fall like a string of dominoes in favor of moneyed interests and to the detriment of hotel workers.
Posted in Class Warfare, corporate greed, Featured, Labor, News, Providence, Rhode Island, Taxes | Tagged Brett Smiley, Carmen Castillo, Fogarty Building, george nee, Gina Raimondo, John Igliozzi, josh miller, Kevin Jackson, Luis Aponte, Michael Sabitoni, Providence City Council Finance Committee, renaissance hotel, Sabina Matos, Tax Stabilization Agreement, Terrance Hassett, The Procaccianti Group, TPG, TSA | 2 Responses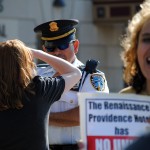 By Steve Ahlquist on July 25, 2015
Solidarity, like a chain, is only as strong as it's weakest link.
Posted in corporate greed, Economy, Labor, Providence, Rhode Island | Tagged george nee, Michael Sabitoni, Providence City Hall, Providence Hilton Hotel, Providence Renaissance Hotel, RI AFL-CIO, RI Laborers' District Council, The Procaccianti Group, TPG, Unite Here Local 217 | Leave a response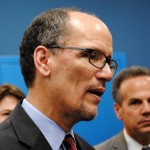 By Steve Ahlquist on April 25, 2015
"Paid leave is good for business and employees," said Cicilline, "Supporting programs like paid leave promotes [employee] retention, recruitment of employees and improves productivity."
Posted in Economy, Featured, National News, Rhode Island, Video, Women | Tagged Barrack Obama, Dan Gold, David Cicilline, District 1199 SEIU, gayle goldin, george nee, Gold International Machinery, jack reed, James Langevin, Lead on Leave, LNA Laser Technology, paid leave, Patrick Quinn, Rhode Island AFL-CIO, RI Department of Labor and Training, Scott Jensen, Tom Perez, U.S. Secretary of Labor | 6 Responses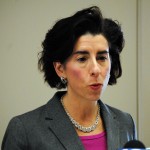 By Steve Ahlquist on March 9, 2015
Governor Gina Raimondo came out in support of bills in the General Assembly that would raise the minimum wage in Rhode Island to $10.10 an hour. "Nobody who works full time should have to live in poverty," said Raimondo, even as she acknowledge that raising the wage to $10.10 won't be enough.
Posted in Featured, Labor, State House | Tagged david bennett, Deborah Norman, erin lynch, george nee, Gina Raimondo, Rhode Island Department of Labor and Training, Rhode Island Hospitality Association, ROC United RI, Scott Jensen, UFCW | 2 Responses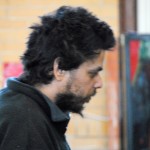 By Steve Ahlquist on January 14, 2015
"No matter how many jobs we have, no matter how strong our economy is, there are always going to be people who need help. There are always going to be people, whether it's a disability, mental or physical, or it's just bad luck, who are going to need help and going to need support."
Posted in Civil Rights / Liberties, Class Warfare, Economic Development, Featured, Homelessness, Housing, National News, News, Politics, Poverty, Rhode Island, State House, Unemployment, Video | Tagged Daniel McKee, george nee, Gina Raimondo, harrington hall, Homelessness, House of Hope, J. Michael Downey, Jean Johnson, Jim Ryczek, Lynn Loveday, Nellie Gorbea, Rhode Island AFL-CIO, Rhode Island Coalition for the Homeless, seth magaziner, social safety net | 2 Responses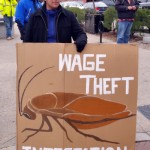 By Steve Ahlquist on December 20, 2014
"I worked grueling 84 hour weeks, 7 days a week, 12 hours a day on the night shift, from 7pm to 7am," said Pedro Us in a written statement, "For all that work, and on the night shift, I was paid only $360 a week, way below minimum wage and with no overtime."
Posted in Activism, Class Warfare, corporate greed, Criminal Justice, Featured, Labor, Video | Tagged Carmen Castillo, fuerza laboral, george nee, Gourmet Heaven, James Riley, jesse strecker, jobs with justice, Marino Cruz, Phoebe Gardener, wage theft | 6 Responses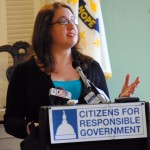 By Steve Ahlquist on May 1, 2014
A large and growing number of groups interested in civil rights and the democratic process started a campaign yesterday at the Old state House on Benefit St in Providence to defeat a Constitutional Convention. Speaking at the event and providing reasons to oppose a Constitutional Convention were representatives from six of the thirty groups that […]
Posted in State House | Tagged ACLU, concon, george nee, pablo rodriguez, Paula Hodges, RI Constitutional Convention, RIconcon | 3 Responses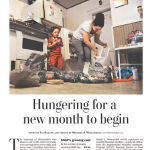 By Bob Plain on April 4, 2013
The most important news story Rhode Islanders can read this week is the front page of today's Providence Journal. "The Face of Food Stamps Nearly 1 out of 5 in R.I. Depends on the Program," reads the headline. It's a sort of follow-up to the Washington Post's recent stunning Sunday front-page examination of Woonsocket, where […]
Posted in Economy, Featured, Rhode Island | Tagged food stamps, george nee, projo, SNAP, Woonsocket | 3 Responses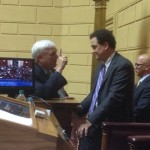 By Bob Plain on March 7, 2013
I was curious how the game of EDC board membership chicken between Gov. Chafee and George Nee was going to play out. Was Chafee going to raise the stakes by demanding, rather than simply asking for, Nee's resignation (a win for the media and loss for all other parties involved: labor, the governor, the people […]
Posted in Featured, Politics | Tagged chafee, EDC, george nee | 3 Responses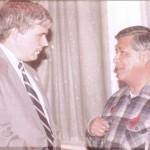 By Mike Levesque on February 25, 2013
When most Rhode Islanders think of George Nee, president of the 80,000 member Rhode Island AFL-CIO, they probably have images of his speaking at a State House rally to support labor causes or testifying at a legislative hearing to protect worker pensions. Probably there are some politicians, on both sides of the aisle, who have […]
Posted in Featured, Labor | Tagged AFL-CIO, cesar chavez, george nee | Leave a response
By Bob Plain on December 5, 2012
I don't doubt Gina Raimondo's actuarial acumen. But oftentimes I think her political instincts leave much to be desired. The general treasurer/gubernatorial candidate-in-waiting might be the Democratic darling to the budget-cutting crowd for shepherding pension cuts through the legislature, but there's a political side to the court challenge too and she has chosen not to […]
Posted in Pensions | Tagged bob walsh, george nee, Gina Raimondo, linc chafee, pension | Leave a response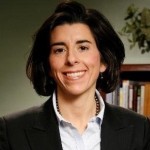 By Bob Plain on May 7, 2012
If you're still looking for the evidence that likely 2014 gubernatorial candidate Gina Raimondo is a progressive Democrat, as she told many a union member during her push for pension reform last year, you won't find it in local tax policy. Instead of advocating for more revenue, Treasurer Raimondo decided to again side with business […]
Posted in Democrats, Featured, Politics, Rhode Island, State House, Taxes | Tagged cimini miller, george nee, Gina Raimondo, Rhode Island, state house, tax equity | 6 Responses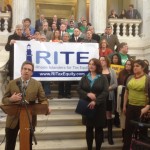 By Bob Plain on March 21, 2012
Rhode Islanders for Tax Equity release a powerful new video today that explains why un-flattening the income tax code and increasing the rate that the richest residents pay would help to solve many of the issues that are currently plaguing the state. The group, made up of many unions and economic activist groups from around […]
Posted in Economy, Featured, Rhode Island, State Budget, State House | Tagged george nee, josh miller, maria cimini, Rhode Island, tax equity | 4 Responses