Browse:
Home
/
homeless bill of rights
By ACLU of RI on May 30, 2017
"This ordinance will only serve to punish the City's already vulnerable poor, and divert police attention away from meaningful law enforcement activities," said Barbara Freitas, director of RIHAP.
Posted in Class Warfare, Featured, Homelessness, Providence | Tagged ACLU of Rhode Island, Barbara Freitas, DARE, Direct Action for Rights an Equality, homeless bill of rights, Homeless Bill of Rights Committee, House of Hope CDC, jorge elorza, kennedy plaza, Providence City Council, RI Homeless Advocacy Project, rihap, SouthCoast Fair Housing, Steven Pare | Leave a response
By Steve Ahlquist on March 28, 2017
Advocates handed out flyers to passing motorists for about an hour and even collected $2 and a Granola Bar before Cranston Police swarmed the area, issuing tickets and disrupting traffic.
Posted in Activism, Civil Rights, Class Warfare, Cranston, Criminal Justice, Featured, Homelessness, Inequality, Photos, Poverty, Rhode Island, Video | Tagged Access to Public Records Act, Andrew Horwitz, Cranston Police, Garden City, homeless bill of rights, Homeless Bill of Rights Defense Committee, Housing Not Handcuffs, National Law Center on Homelessness and Poverty, New London Avenue, RI ACLU, Roger Williams Law School, Sockanosset Cross Road | 4 Responses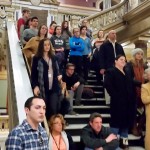 By Steve Ahlquist on January 26, 2016
In the rotunda of City Hall advocates for the homeless gathered to release a new study validating the harassment and discrimination being felt on the streets and to demand that Mayor Elorza immediately instruct the Providence Police to stop their practice of criminalizing homelessness and harassing homeless individuals.
Posted in Activism, Civil Rights, Class Warfare, Events, Featured, Homelessness, News, Photos, Poverty, Providence, Race & Racism, Rhode Island, Video | Tagged Burnside Park, eric hirsch, homeless bill of rights, House of Hope CDC, Jim Crow, jorge elorza, Kate Miechkowski, kennedy plaza, Mary Kay Harris, Megan Smith, opening doors rhode island, PERA, Providence City Hall, providence college, Providence External Review Authority, Providence Police Department, Rhode Island Coalition for the Homeless, Rhode Island Homeless Advocacy Project, RICH, rihap, U.S. Department of Justice | Leave a response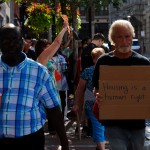 By Steve Ahlquist on August 28, 2015
Over 50 homeless and community advocates protested and confronted the police on Thursday afternoon in front of CVS near Kennedy Plaza within sight of Providence City Hall. At least 14 police officers were on hand, though no arrests were made. The protesters carried signs demanding an end to "a noticeable increase of harassment of homeless folks around the city."
Posted in Activism, Civil Rights, Class Warfare, Criminal Justice, Events, Featured, Homelessness, Housing, International News, National News, News, People, Photos, Poverty, Providence, Rhode Island, Video | Tagged Barbara Kalil, homeless bill of rights, jorge elorza, opening doors rhode island, Rhode Island Coalition for the Homeless, RICH, rihap, Shannah Kurland | 3 Responses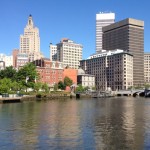 By Bob Plain on July 9, 2012
How is Rhode Island viewed by others? Lately, like a state that takes care of its least fortunate residents – which is something we should be proud of and other states should mimic. This Al Jazeera video is a few days old now, but it focuses on RI's first-in-the-nation Homeless Bill of Rights, and how […]
Posted in Featured | Tagged Al Jazeera, barrington, homeless bill of rights, Teresa Tanzi, Voter ID | 1 Response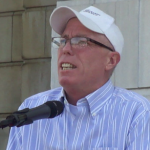 By Bob Plain on June 27, 2012
Rhode Island should indeed be proud as it is the only state in the nation to pass a law that specifically protects the rights of the homeless. The newly-enacted Homeless Bill of Rights protects those without homes by ensuring they can vote, that they can rent an apartment, that they can get a job and […]
Posted in Civil Rights, Featured, Housing, National News, Rhode Island | Tagged homeless bill of rights, john joyce, Rhode Island, Rhode Island State House | 1 Response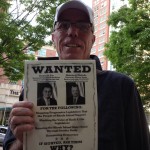 By Bob Plain on June 27, 2012
Come celebrate today at the State House an area of public policy in which Rhode Island is leading the nation: protecting the rights of homeless people. That's right, as the rest of the nation moves toward outlawing homelessness and sleeping in public places, the Ocean State is the first in the country to pass a […]
Posted in Featured | Tagged ALEC, apra, barrington, homeless bill of rights, john joyce, jon brien, Woonsocket | 1 Response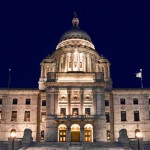 By Samuel G. Howard on June 13, 2012
To applause from the gallery on both sides, the Homeless Bill of Rights passed out of the General Assembly and now heads to the Governor's desk for signing. Officially titled the Rhode Island Fair Housing Practices Act, it was introduced in both chambers back in January. A revised version passed the Senate on May 2nd. […]
Posted in Civil Rights, Featured | Tagged anti-discrimination, Chris Blazejewski, homeless bill of rights, Homelessness, john tassoni, Lincoln Chafee | 36 Responses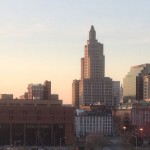 By Bob Plain on June 12, 2012
The most amazing story of the end of the legislative session is that two people – Woonsocket Reps. Lisa Baldelli-Hunt and Jon Brien – are able to thwart the will of the mayor, city council and state appointed budget commission and block a tax increase that would save the city from imminent financial ruin. This […]
Posted in Featured | Tagged homeless bill of rights, Mitt Romney, Woonsocket | 4 Responses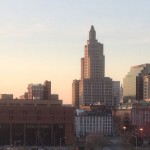 By Bob Plain on May 14, 2012
What you'll notice when you look at GoLocal's annual list of best high schools is the ones at the top of the list are in affluent towns and the ones near the bottom are in poorer urban areas. It's that simple: we have a tiered education system in this state. Rich kids, and those lucky […]
Posted in Featured | Tagged Brendan Doherty, Citizens United, east greenwich, homeless bill of rights, matunuck, New York Times, Ocean Mist, Scott MacKay, URI | Leave a response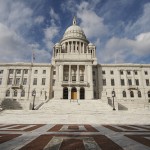 By Samuel G. Howard on May 3, 2012
Taking a "historic step" forward according to advocates, the Rhode Island Senate voted 33-2 to pass Senate Bill 2052, a.k.a. the Homeless Bill of Rights. The law provides homeless people with protections against discrimination based on their housing status, preventing them from being told to move along if they enter libraries or sit on park […]
Posted in Featured, Housing | Tagged anti-discrimination, homeless bill of rights, Homelessness, john tassoni, RI Senate, shelter | 1 Response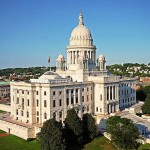 By Bob Plain on April 10, 2012
A House committee today considers a number of bills that would protect people from banks, and one that would create what's being called a "Homeless Bill of Rights." The Homeless Bill of Rights, sponsored by Rep. Christopher Blazejewski, D- Providence, would "provide all residents with an equal opportunity to live in decent, safe and sanitary […]
Posted in Housing, Rhode Island, State House | Tagged homeless bill of rights, Rhode Island State House | Leave a response