Browse:
Home
/
House of Hope
By Bob Plain on November 8, 2017
Obamacare, Medicaid, or private health insurance isn't the only way to get to see a doctor. Once a year in downtown Providence, students from Brown University's Alpert School of Medicine hold a free health clinic at Burnside Park for anyone who might have unaddressed health issues. "Volunteers will take blood pressures and measure glucose to […]
Posted in Events, Featured, Health Care | Tagged Alpert School of Medicine, Burnside Park, Clinica Esperanza, George Wiley Center, health clinic, House of Hope, Rhode Island Free Clinic | Leave a response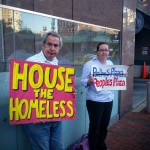 By Steve Ahlquist on September 28, 2017
The bill "creates a potential threat to the safety of both the community at large and the RSOs who will be forced out of shelter."
Posted in Civil Rights, Class Warfare, Criminal Justice, Featured, Health Care, Homelessness, Housing, Rhode Island, State House | Tagged American Civil Liberties Union of Rhode Island, Amos House; Diana D Burdett, Andrew Horwitz, Barbara Freitas, Bella Robinson, COYOTE RI, Eileen Hayes, frank lombardi, Gina Raimondo, Hanna Gallo, House of Hope, Laura Jaworski, PICA, registered sex offenders, Rhode Island Homeless Advocacy Project, Roger Williams University School of Law, RSOs, Steven Brown | Leave a response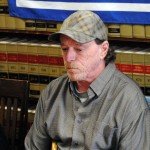 By Steve Ahlquist on December 16, 2015
On June 30 a Cranston police officer wrote Monteiro a court summons for soliciting money. The charge was ultimately dismissed, but the judge ordered Monteiro to stay away from the area or face arrest. This was Monteiro's second run in with this law in Cranston, after having been arrested twice for the offense in Providence, where he lives.
Posted in Activism, Civil Rights, Class Warfare, Criminal Justice, Featured, Homelessness, News, Poverty, Providence, Rhode Island | Tagged Homelessness, House of Hope, Megan Smith, panhandling, Poverty, RI ACLU, Steven Brown | Leave a response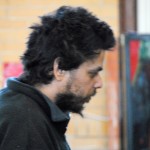 By Steve Ahlquist on January 14, 2015
"No matter how many jobs we have, no matter how strong our economy is, there are always going to be people who need help. There are always going to be people, whether it's a disability, mental or physical, or it's just bad luck, who are going to need help and going to need support."
Posted in Civil Rights, Class Warfare, Featured, Homelessness, Housing, National News, News, Politics, Poverty, Rhode Island, State House, Unemployment, Video | Tagged Daniel McKee, george nee, Gina Raimondo, harrington hall, Homelessness, House of Hope, Jim Ryczek, Nellie Gorbea, Rhode Island AFL-CIO, Rhode Island Coalition for the Homeless, seth magaziner | 2 Responses