Browse:
Home
/
Jeremy Rix
By Steve Ahlquist on January 25, 2017
The endorsements include State Representatives Edith Ajello, Anastasia Williams, Jeremiah O'Grady and Deborah Ruggiero and State Senators James Sheehan and Jim Seveney.
Posted in Congress, Featured, National News, Politics, Rhode Island, Youth | Tagged 66, aaron regunberg, Abel Collins, adam satchell, Ana Quezada, Anastasia Williams, Arthur Handy, Carmen Castillo, Chris Blazejewski, david bennett, David Segal, Deborah Ruggiero, DNC Chair, donald trump, edith ajello, Edwin Pacheco, Evan Shanley, Gregg Amore, Hanna Gallo, James Sheehan, Jason Knight, Jeanine Calkin, Jeremiah O'Grady, Jeremy Rix, jim seveney, John J. Lombardi, Joseph Almeida, Joseph McNamara, Joshua Miller, Justin Skenyon, Kathy Fogarty, Keith Ellison, Kenneth Marshall, Laufton Ascencao-Longo, Linda Ujifusa, Marcia Ranglin-Vassell, Meghan Kallman, Moira Walsh, North Kingstown Democratic Town Committee, Patricia Serpa, Scott Slater, Shelby Maldonado, Sony Handycam FDR-AX53 16.6 MP Ultra HD Camcorder - 4K - Black 59, Steven Stycos, Susan Donovan, Susan Taylor, Suzanna Alba, Timothy E. Sweeney, Young Democrats of Rhode Island | 2 Responses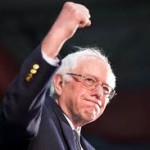 By Christopher Joseph on July 16, 2016
If you watch the video on YouTube entitled "The Struggle Continues," where Bernie Sanders gives a speech in Santa Monica, California on the day of the California primary, there's a moment around the 9:30 mark where the crowd starts chanting "Ber-NIE! Ber-NIE!" And if you pay close attention to his reaction, he doesn't smile. He doesn't raise […]
Posted in Activism | Tagged Bernie Sanders, Jeanine Calkin, Jeremy Rix | 1 Response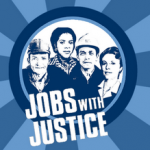 By Mike Araujo on June 23, 2016
"While more work needs to be done to address the growing problem of wage theft, this bill provides an important tool for Rhode Island workers," says Robert McCreanor, executive director of the Rhode Island Center for Justice.
Posted in Activism, Featured, Labor, News, Poverty, Rhode Island, State House | Tagged Economic Progress Institute, Flor Salazar, fuerza laboral, General Assembly, Jeremy Rix, Rhode Island Center for Justice, Rhode Island Jobs with Justice, RI Department of Labor and Training, Robert McCreanor, Scott Jensen, wage theft | Leave a response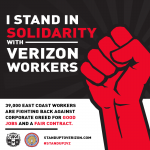 By Andrew Stewart on May 23, 2016
Sunday was a somewhat rainy day but the spirit of solidarity was not dampened as family members and supporters, including General Assembly member Aaron Regunberg and local candidate Jeremy Rix. Noisemakers and even a few costumes were to be found as there was a great deal of spirit within the crowd.
Posted in Labor | Tagged aaron regunberg, CWA, ibew, Jeremy Rix, verizon | Leave a response