Browse:
Home
/
Jim Sheehan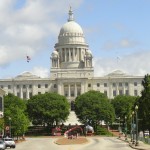 By Bob Plain on May 11, 2016
After a seven year dearth, it looks like a little bit of ethical oversight may be returning to the General Assembly. Thanks to a bill sponsored by House Speaker Nick Mattiello, Rhode Islanders could vote to restore the Ethics Commission's ability to review legislators' actions this November. "The public and the business community need to […]
Posted in State House | Tagged common cause, Ethics, ethics reform, Jim Sheehan, john marion, Nicholas Mattiello, paiva weed | 5 Responses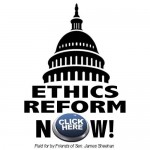 By Jim Sheehan on May 3, 2016
In 1992, justices of the Rhode Island Supreme Court declared unanimously that prior to the Ethics Commission, "widespread breaches of trust, cronyism, impropriety, and other violations of ethical standards decimated the public's trust in government." The 1986 Constitutional Convention passed an extraordinary Ethics in Government Amendment, and the people approved. This amendment called for the […]
Posted in Featured, State House | Tagged ethics reform, Jim Sheehan, Nicholas Mattiello, paiva weed, Rhode Island State House, sheehan | 2 Responses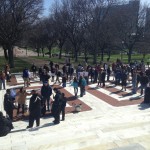 By Andrew Stewart on April 16, 2016
A Bernie Sanders rally on the steps of the State House drew more than 200 people – and focused not only on why Sanders is the best choice to be the next president, but also on how to keep the political revolution he launched alive long after election day. "A lot has been made of […]
Posted in Elections, Featured | Tagged aaron regunberg, Abel Collins, Bernie Sanders, campaign, Jim Sheehan, Lauren Neidel, rally, Rhode Island State House | 3 Responses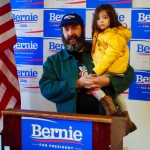 By Steve Ahlquist on April 10, 2016
After the opening celebrations, Sanders supporters got to work, clipboards in hand, canvassing for Sanders. This is a campaign that knows it needs an excellent ground game if they're going to take this state in just over two weeks, so they're wasting no time.
Posted in Featured, National News, News, Providence, Rhode Island, Video, Women, Youth | Tagged Bernie Sanders, Jim Sheehan, josh miller | 4 Responses