Browse:
Home
/
john arnold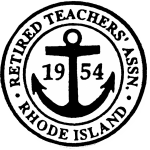 By Andrew Stewart on July 6, 2016
Are you an Employees Retirement System of Rhode Island (ERSRI) pensioner, someone who is paying into the pension, or do you know someone who is either of these? We wanted to introduce you to some of the people who are at the forefront of advocating for the solvency and security of the fund.
Posted in Featured | Tagged Gina Raimondo, john arnold, RIRTA | 1 Response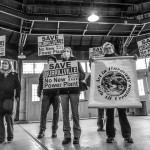 By Peter Nightingale on January 22, 2016
We are building a 30 megawatt wind farm off Block Island and we are talking about frack-gas facility with 30 times that capacity in Burrillville… Accounting gimmicks devoid of physics may fool the people, the editor of the the ProJo and our hapless leaders, but none of that will change the laws of nature.
Posted in Class Warfare, Climate, Corporate Greed, Economics, Energy, Featured, News, Rhode Island, State House | Tagged ACEEE, clean power plan, Clear River Energy Center, Energy Facility Siting Board, Environmental Protection Agency, Gina Raimondo, Invenergy, janet coit, john arnold, Marion Gold, Nicholas Mattiello, Rhode Island Department of Environmental Management, Rhode Island Office of Energy Resources | 1 Response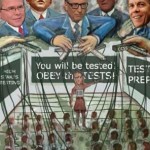 By Sheila Resseger on April 13, 2015
In her recent field memo of April 3, 2015 Commissioner Gist took the unusual step of quoting an entire blog post. "I'm a mom," it begins. "And the happiness of my children, now and in the future as they go on to start careers and families of their own, is on my mind all the […]
Posted in Education, Featured | Tagged common core, corporate education, ed deform, gist, jeb bush, john arnold, PARCC | 6 Responses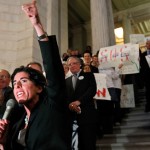 By Bob Plain on February 22, 2014
Future generations studying Rhode Island at the turn of the 21st Century will be embarrassed when they get to the part on pension politics. Those were the days, they will note, when economic growth hit a bump in the road and some of the richest people in society launched a very expensive, targeted and secretive […]
Posted in Class Warfare, Featured, Pensions | Tagged Gina Raimondo, john arnold, pension, pension reform, pensions, Rhode Island, settlement | 7 Responses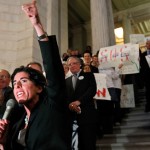 By Bob Plain on October 16, 2013
A new report singles out Rhode Island for favoring pension cuts over eliminating tax expenditures. It also suggests John Arnold, the former Enron investor who largely bankrolled Engage RI, and the Pew Charitable Trust, the supposedly non-partisan organization the General Assembly and Gina Raimondo had explain pension math and actuarial science to elected officials and […]
Posted in Pensions | Tagged david sirota, john arnold, pension, pew | 4 Responses
By Bob Plain on August 5, 2013
There is a difference between a thing having a good effect and a thing being a net good. Take hedge funds, for example. They do produce a good outcome, in that they manage against investment risk. But that doesn't mean that investing in hedge funds is a net good for the state's pension fund.  Mike […]
Posted in Featured, Pensions | Tagged Gina Raimondo, hedge fund, john arnold, pension, seidle, stanton | 5 Responses