Browse:
Home
/
john lewis
By Bob Plain on June 13, 2018
Matt Brown, the upstart progressive challenging Governor Gina Raimondo in the Democratic primary this year, was quick to namedrop U.S. Rep. John Lewis when I interviewed him last month. Early on, we had digressed into discussing how Nelson Mandela and African National Congress managed to defeat apartheid in South Africa and by way of redirecting […]
Posted in Featured, Politics | Tagged gov18, john lewis, Matt Brown, Rep John Lewis | 1 Response
By Steve Ahlquist on March 9, 2017
"It's done pro bono?" asked Representative Justin Price, "from where? Do you accept any money from George Soros?"
Posted in Activism, Civil Rights, Class Warfare, Featured, History, National News, Race & Racism, State House, Video | Tagged Bill of Rights, black lives matter, cale keable, donald trump, Duane Clinker, Edie Ajello, first amendment, George Soros, john lewis, Justin price, Martin Luther King, Matthew Blair, Michael Araujo, Million Woman March, National Lawyers Guild, north dakota, RI ACLU, RI Jobs with Justice, Shanna Wells, Steven Brown, Williams v Wallace | 6 Responses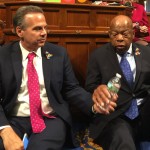 By Bob Plain on June 27, 2016
This follow-up event is being billed, by Cicilline spokesman Rich Luchette, as an opportunity to "discuss ways for Rhode Islanders to continue to push Republicans in Congress on 'no fly, no buy' and universal background checks," he said.
Posted in Featured, Gun Control | Tagged cicilline, gun sit-in, guns, john lewis, langevin, sit-in | 4 Responses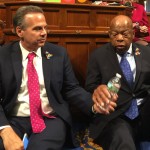 By Bob Plain on June 23, 2016
Congressional Democrats shut down the U.S. House of Representatives by staging a sit-in on the floor that lasted more than 12 hours, led to disarray and physically prevented Speaker Paul Ryan from conducting business. They were protesting against House Republicans who refuse to allow a vote on a bill that would get guns out of […]
Posted in Gun Control | Tagged cicilline, David Cicilline, gun violence, john lewis | 8 Responses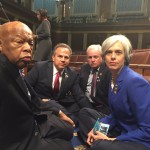 By Bob Plain on June 22, 2016
Rhode Island's congressmen David Cicilline and  Jim Langevin joined John Lewis and other Democrats in a sit-in on the floor of the House of Representatives to force Republicans to hold a vote on preventing gun sales to suspected terrorists and expanded background checks for potential gun owners. "We are resolved and committed to speaking out […]
Posted in Featured, Gun Control | Tagged Congress, David Cicilline, guns, john lewis, sit-in | 7 Responses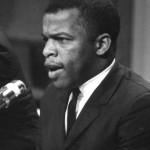 By Bob Plain on October 31, 2013
Speaking of civil disobedience, Congressman John Lewis will be in Providence on Friday and I can hardly wait to ask the this living legend of the struggle for civil rights what he thinks of the instantly infamous Shout Down at Brown. Lewis, like those who prevented Ray Kelly from lecturing on his controversial and currently […]
Posted in Civil Rights | Tagged Brown, Civil Liberties, Civil Rights / Liberties, john lewis, projo, racism | 1 Response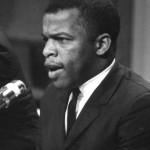 By Bob Plain on October 2, 2013
Georgia Congressman John Lewis, a living legend of the Civil Rights Movement, is coming to the Ocean State to celebrate the 100th anniversary of the Providence chapter of the NAACP, according to a press release from the group. "Congressman Lewis, from the state of Georgia, is the only living person who marched and spoke with […]
Posted in Featured, Race & Racism | Tagged john lewis, NAACP | Leave a response